Une approche psycho-politique du racisme
Das Gemeinschaftswerk von Sniderman, Tetlock und Carmines : "Prejudice, politics and the American dilemma" (1994), behandelt den Rassismus in einer interdisziplinären Perspektive, die Psychologen, Demographen, Politisten und Soziologen verbindet, und in einer Vergleichsperspektive, in der der Blick der Weissen auf die Schwarzen, und der Blick der Schwarzen auf die anderen Minderheiten, sowie auf die Weissen, allgemein gegenübergestellt werden. Die verschiedenen Beiträge unterstreichen sowohl den universalen Charakter der rassischen Kategorisierungs- und Beherrschungsarten, als auch die Spezifizität des heutigen Rassismus in den Vereinigten Staaten. Sie beleuchten die Dynamik der Vorurteile und den Aufschwung eines « symbolischen » Neorassismus, der sich dazu nicht bekennt. Sie geben die unterschiedlichen Erklärungssysteme und Argumentierungen religiöser, moralischer und wirtschaftlicher Art wieder, die ihre Grundlage bilden. Sie unterstreichen schliesslich ihre enge Verknüpfung mit der öffentlichen Politik, die sie bekämpfen will, besonders die der « positiven Diskrimination », deren perverse Auswirkungen von verschiedenen Beiträgen hervorgehoben werden, da sie den Rassismus verstärken statt ihn zu mindern. Das Werk, das sowohl in seiner Theorie als in seiner Methode neue Wege geht, illustriert die Fruchtbarkeit einer psychopolitischen Näherung dieser Erscheinung und wäre mit Gewinn in Frankreich auszuwenden.
The collective works of Sniderman, Tetlock and Carmines, "Prejudice, politics and the American dilemma" (1994), deal with racism from an interdisciplinary point of view, - combining psychologists, demographers, political scientists and sociologists - and from a comparative point of view, - confronting the way Whites see Blacks and the way Blacks see other minorities and Whites in general. The various contributions point out both the universal nature of forming categories and of racial domination, and the specificity of contemporary racism in the United States. They illustrate the dynamic characteristic of prejudice and the upsurge of a symbolic neo-racism which does not declare itself to be so. They show the diversity of explanatory systems and arguments - religious, moral, economic - which form their origins. Finally, they emphasize their tight relation with public politics, aimed to fight against racism, in particular, "positive discrimination" for which a number of contributions mention the perverse effect, creating in fact more racism rather than reducing it. This new approach, using new theory and method, illustrates the productiveness of a psycho-political approach to this phenomenon which would be worth developing in France.
El libro colectivo de Sniderman, Tetlock et Carmines, "Prejudice, politics and the American dilemma" (1994) aborda el tema del racismo desde una perspectiva interdisciplinaria - asociando psicólogos, demógrafos, politólogos y sociólogos - y comparativa, confrontando el punto de vista de los Blancos sobre los Negros, al de éstos últimos sobre las otras minorías y sobre los Blancos en general. Las diversas contribuciones a la vez señalan el caracter universal de los modos de categorización y de dominación racial así como la especifisidad del racismo contemporáneo en los Estados Unidos. Aclara también la dinámica de los prejuicios y el surgimiento de un neo-racismo « simbólico » que no se declara como tal. Del mismo modo, la diversidad de los sistemas explicativos y argumentales religiosos, morales, económicos - que les respaldan son restituídos. Por último señalan, la estrecha relación con las políticas públicas, especialmente con aquellas de la « discriminación positiva », de la cual varias contribuciones señalan sus perversos efectos, generando el racismo en lugar de combatirlo y de reducirlo. La empresa, innovadora tanto en el nivel de la teoría como del método, ilustra la fertilidad de una aproximación psico-político del fenómeno, que obtendría éxito de ser desarrollado en Francia.
L'ouvrage collectif de Sniderman, Tetlock et Carmines, aborde le racisme dans une perspective interdisciplinaire - associant psychologues, démographes, politistes et sociologues - et comparative, confrontant le regard des Blancs sur les Noirs à celui que portent les Noirs sur les autres minorités et les Blancs en général. Les diverses contributions soulignent à la fois le caractère universel des modes de catégorisation et de domination raciale et la spécificité du racisme contemporain aux Etats-Unis. Elles éclairent la dynamique des préjugés et l'essor d'un néo-racisme « symbolique » qui ne s'avoue pas comme tel. Elles restituent la diversité des systèmes explicatifs et des argumentaires - religieux, moraux, économiques - qui les fondent. Elles soulignent enfin leur imbrication étroite avec les politiques publiques destinées à les combattre, notamment celles de la « discrimination positive », dont plusieurs contributions soulignent les effets pervers, générant du racisme au lieu de le réduire. L'entreprise, novatrice tant sur le plan de la théorie que de la méthode, illustre la fécondité d'une approche psycho-politique du phénomène, qui gagnerait à être développée en France.
Fichier principal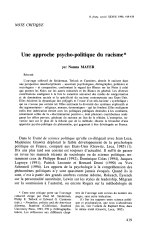 1996-mayer-une-approche-psycho-politique-du-racisme.pdf (1.61 Mo)
Télécharger le fichier
Origin : Publisher files allowed on an open archive