Le prestataire, le client et le consommateur
This article follows the development of a particular type of commercial relation between the different actors involved in the selling of a service : in other words, the service provider, the customer and the consumer. Based on an empirical study within a collective catering company, this analysis reconstructs the means used by the supplier to give the consumer a particular role to form a relationship which provides the conditions so that supply and demand come together. By giving the consumer means of action and expression, the service provider becomes the customer's spokesperson. This reverses the roles between actors and demand. In the case of school catering, where the political factor is more meaningful, there is additional understanding of the situation. This new understanding makes it possible to follow special methods implemented by the service provider to give out a role and differents types of action to the various actors : mayors, children and schoolchildren's parents. It is then possible to note that the way trade relations operate depends on the type of set up introduced by the actors in order to define and distribute a product or a service.
L'article se propose de suivre la construction d'une relation marchande particulière entre les différents acteurs d'une prestation de service : le prestataire, le client et le consommateur. S'appuyant sur un travail empirique au sein d'une entreprise de restauration collective, l'analyse restitue les moyens que l'offreur se donne pour fixer au consommateur un rôle particulier dans le jeu de relations qui constitue précisément les conditions pour que l'offre et la demande se nouent. En donnant au consommateur des moyens d'action et d'expression, le prestataire en devient le porte-parole auprès du client, renversant ainsi le jeu de la représentation entre les acteurs de la demande. Le cas de la restauration scolaire, dans lequel la composante politique est plus prégnante, fournit un éclairage complémentaire. Il permet notamment de suivre les dispositifs particuliers mis en œuvre par le prestataire pour attribuer un rôle et des modalités d'action aux différents acteurs : maires, enfants et parents d'élèves. On peut alors considérer que les formes prises par des relations marchandes dépendent des dispositifs que mettent en place les acteurs pour définir et faire circuler un produit ou un service.
Fichier principal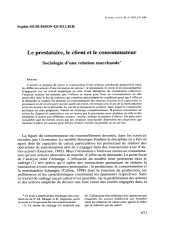 1999-dubuisson-le-prestataire-le-client-et-le-consommateur.pdf (1.45 Mo)
Télécharger le fichier
Origin : Publisher files allowed on an open archive