Des poissons et des mares : l'analyse de réseaux multi-niveaux
Fische und Teiche : die Analyse von mehrstufigen Netzwerken. In diesem Artikel wird eine neo-strukturale Annäherung der mehrstufigen Dimensionen des organisationellen und gesellschaftlichen Lebens vorgeschlagen. Die angewendete Annäherungsmethode stützt sich auf die Untersuchung von mehrstufigen Netzwerken und beobachtet zwei übereinander liegende und teilweise ineinander verschachtelte Interdependenzsysteme, von denen eins eine interorganisationelle, das andere eine interindividuelle Abhängigkeit aufweist. Wir schlagen eine Beziehung innerhalb dieser Stufen vor, unter Anwendung der Methode des strukturalen linked design. Sie besteht darin, die kompletten Netzwerke unterschiedlicher Stufen getrennt zu untersuchen, um sie anschließend zu verbinden durch die systematischen Informationen zur Zugehörigkeit jedes Individuums des ersten Netzwerkes (interindividuell) zur einer der Organisationen des zweiten Netzwerkes (interorganisationell). Diese Annäherung, gestützt auf diese strukturale Doppelpositionierung, wird bei einer empirischen Untersuchung der Leistungsvariationen innerhalb einer « Elite » der französischen Krebsforschung im Jahre 1999 angewendet. Anhand von Zentralitätsmessungen identifizieren wir die Aktoren, die von den Forschern als im Mittelpunkt oder am Rand des interindividuellen Maßstabs stehend beurteilt werden (die großen und kleinen Fische), sowie die Forschungslabors, die von den Forschungsleitern als im Mittelpunkt oder am Rand des interorganisationellen Maßstabs befindlich betrachtet werden (die großen und kleinen Teiche). Über die triviale Feststellung des Wettbewerbsvorteils für die großen Fische in großen Teichen hinaus (besonders aufgrund des Größenvorsprungs in diesem Forschungsbereich) heben wir im Wettlauf zur wissenschaftlichen Leistung auf individueller Ebene die in diesem System von den kleineren Fischen genutzten « Aufholungsstrategien » hervor. Wir meinen, daß diese Methode einen originellen Beitrag zur Kenntnis der Mehrstufendimension innerhalb der Interdependenzsysteme und der Lenkweise dieser Interdependenz durch die Aktoren liefert. Unseres Erachtens wird hier eine neue Dimension der meso-soziologischen Forschung geschaffen, sei es für die Studien zu den sozialen Ungleichheiten oder zur Rolle der Eliten bei institutionellen Veränderungen.
This article proposes a neo-structural approach to the multi-level dimension of organizational and social life. Our study explores multi-level networks that observe two systems of superposed and partially interlocked interdependencies, the first being inter-organizational, the second interindividual. We propose a method of structural linked design as an articulation for these levels. The method is composed of two major steps: first, we separately examine the complete networks at the two different levels. Second, we articulate the two networks in relation to one another using systematic information about the membership of each individual in the first network (interindividual) to one of the organizations in the second network (inter-organizational). This dual positioning, or the linked design approach, is carried out in an empirical study examining performance variations within the "elite" of French cancer research in 1999. By looking at measures of centrality, we identify the actors that these top researchers consider as central or peripheral at the inter-individual level (the big and the little fish among the elite), and the laboratories that the research directors consider as central or peripheral at the inter-organizational level (the big and the little ponds among all the laboratories conducting cancer research in France at that time). In addition to the rather trivial report of the competitive advantage of big fish in big ponds (particularly because of the advantage of size for laboratories in this domain of research), we use measurements of scientific performance to identify "catching up" strategies that the smallest fish use in this system. We suggest that this method offers new insights into the multilevel dimension of complex systems of interdependencies, and also into the way in which actors manage these interdependencies. We believe that this understanding adds a new dimension to the sociological exploration of the determinants of performance, of meso-level phenomena such as institutional change, or macro-level phenomena such as social inequalities.
Peces y mares : el análisis de las relaciones múlti-niveles. Este artículo propone un enfoque neoestructural en la dimensión multi-niveles de la vida organizativa y social. El enfoque explorado se basa sobre un estudio de las relaciones y sus multiniveles, observado en dos sistemas de interdependencias sobrepuestas y parcialmente implicadas la una en la otra ; la una inter-organizacional y la otra inter-individual. Nosotros proponemos un modo de articulación de esos niveles, el método del linked design estructural. Este método consiste en examinar por separado los diferentes niveles del sistema de relaciones, y gracias a las informaciones sistemáticas sobre la dependencia de cada individuo del primer grupo de relaciones (inter-individual) articularlas después a una de las organizaciones del segundo grupo de relaciones (interorganizativa). Un enfoque basado sobre este doble posisionamiento fue realizado en una investigación empírica sobre las variaciones cuantitativas dentro de la « elite » de la investigación francesa en cancerología en 1999. Gracias a las medidas de centralidad, identificamos los actores que esos investigadores consideran como centrales o periféricos a escala inter-individual (los grandes y los pequeños peces) y los laboratorios que los directores de investigación consideran como centrales o periféricos a escala inter-organizacional (los grandes o los pequeños mares). Mas allá de la constatación trivial de la ventaja competitiva de los peces grandes en los grandes mares (en particular el hecho de recompensar al tamaño en ese dominio de investigación) en la carrera a la perfección científica medida a escala individual, nosotros ponemos en evidencia las estrategias de « recuperación » utilizadas por los peces mas pequeños. Sugerimos que este método aporta un conocimiento original a la dimensión multi-niveles de los sistemas de interdependencias y la manera cómo los actores dirigen estas interdependencias : Pensamos que enriquece con una nueva dimensión a la exploración medio-sociológica, ya sea por el estudio de las desigualdades sociales o por la del papel que desempeñan las elites en los cambios institucionales.
Cet article propose une approche néo-structurale de la dimension multi-niveaux de la vie organisationnelle et sociale. L'approche explorée s'appuie sur une étude de réseaux multiniveaux observant deux systèmes d'interdépendances superposés et partiellement emboîtés, l'un inter-organisationnel et l'autre inter-individuel. Nous proposons un mode d'articulation de ces niveaux, la méthode du linked design structural. Cette méthode consiste à examiner séparément des réseaux complets de niveaux différents, puis à les articuler grâce à des informations systématiques sur l'appartenance de chaque individu du premier réseau (interindividuel) à l'une des organisations du second réseau (inter-organisationnel). L'approche fondée sur ce double positionnement structural est mise en œuvre dans une recherche empirique sur les variations de performance au sein de l'« élite » de la recherche française en cancérologie en 1999. Grâce à des mesures de centralité, nous identifions les acteurs que ces chercheurs considèrent comme centraux ou périphériques à l'échelle inter-individuelle (les gros et les petits poissons) et les laboratoires que les directeurs de recherche considèrent comme centraux ou périphériques à l'échelle inter-organisationnelle (les grandes ou les petites mares). Au-delà du constat trivial de l'avantage concurrentiel des gros poissons dans les grandes mares (en particulier du fait de la prime à la taille dans ce domaine de recherche), nous mettons en évidence, dans la course à la performance scientifique mesurée à l'échelle individuelle, des stratégies de « rattrapage » utilisées dans ce système par les plus petits poissons. Nous suggérons que cette méthode apporte une connaissance originale de la dimension multi-niveaux des systèmes d'interdépendances et de la manière dont les acteurs gèrent ces interdépendances. Nous pensons qu'elle ajoute une dimension nouvelle à l'exploration méso-sociologique, que ce soit pour l'étude des inégalités sociales ou pour celle du rôle des élites dans les changements institutionnels.
Fichier principal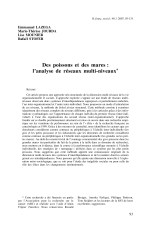 2007-lazega-jourda-mounier-stofer-des-poissons-et-des-mares.pdf (510.37 Ko)
Télécharger le fichier
Origin : Publisher files allowed on an open archive