La ségrégation ethno-raciale a-t-elle augmenté dans la métropole parisienne ?
Changes in ethnic-racial segregation in the Paris metropolis are analyzed over the last three census periods. Immigrants are studied in terms of groups of national origin, to which is added proportion of second-generation immigrants, identifiable by means of the census data. The main analytic scale used is the Paris administrative unit and the Paris neighborhood. Dissimilarity and segregation indices, together with concentrations by administrative unit, show that segregation most strongly affects North African, sub-Saharan and Turkish immigrants ; that segregation level is rising moderately ; that ethnic-racial segregation is much stronger than socio-economic segregation but also far below racial segregation levels in American cities : the vast majority of immigrants in France live in neighborhoods where they represent a minority, meaning they are living in residentially mixed situations, not ghettos.
L'article propose une analyse de l'évolution de la ségrégation ethno-raciale dans la métropole parisienne entre les trois derniers recensements. Les catégories utilisées sont celles des immigrés au sens strict, considérés par groupes d'origines nationales, auxquels on ajoute ensuite la part de la seconde génération que l'on peut repérer dans les recensements. L'analyse est conduite principalement à l'échelle des communes et quartiers parisiens. Les indices de dissimilarité et d'isolement et l'étude de la concentration par commune montrent que la ségrégation la plus forte est celle des immigrés d'origines maghrébine, subsaharienne et turque ; qu'elle est en croissance modérée ; qu'elle est nettement supérieure à la ségrégation socioéconomique ; mais aussi très inférieure à la ségrégation raciale dans les métropoles des États-Unis, et que la grande majorité des immigrés résident dans des quartiers où ils sont minoritaires, donc dans des situations de mixité résidentielle, et pas dans des ghettos.
Fichier principal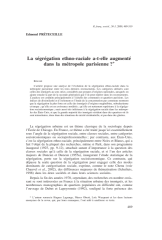 2009-preteceille-la-segregation-ethno-raciale-a-t-elle-augmente.pdf (299.86 Ko)
Télécharger le fichier
Origin : Publisher files allowed on an open archive