Capacités d'observation et dynamique des groupes professionnels
Professional group dynamics are envisaged here not in systemic terms – the dynamic whereby one profession or occupation triggers movement in its neighbors and vice-versa – but their interactional dimension. The history of relations between professions is understood to result from observation and from the observation-based actions taken by professional groups and their members. The empirical analysis is focused on the groups engaged in preserving museum artworks. The remarkable transformation of the content of this activity and the cultural and economic policies implemented in France since the 1970s do not suffice to explain the professional dynamics of art restorers and museum curators. On the other hand, taking into account the observation abilities of these professional groups does make it possible to understand how the present aspirations of restorers arose and how, paradoxically, the dominant position of museum curators has been strengthened.
Cet article propose d'envisager la dynamique des groupes professionnels non pas sous son aspect systémique – la dynamique d'une profession entraînant celle de ses voisines, et réciproquement –, mais dans sa dimension interactionnelle. L'histoire des relations entre professions y est vue comme le résultat d'observations, et d'actions fondées sur ces observations, de la part des groupes professionnels et de leurs membres. L'analyse empirique se concentre sur les groupes engagés dans la conservation des œuvres de musées. La remarquable transformation du contenu de cette activité, ainsi que les politiques culturelles et économiques conduites depuis les années 1970 ne suffisent pas à expliquer les dynamiques professionnelles des restaurateurs d'œuvres d'art et des conservateurs de musées. La prise en compte des capacités d'observation des groupes professionnels, au contraire, permet de comprendre la naissance des aspirations des premiers, et le renforcement paradoxal de la position de dominance des seconds.
Fichier principal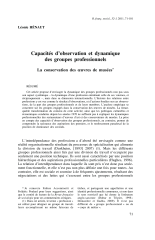 2011-henaut-capacites-d-observation-et-dynamique-des-groupes-professionnels.pdf (367.39 Ko)
Télécharger le fichier
Origin : Publisher files allowed on an open archive