Towards a Sociology of the Boundary-Entrepreneur : Creation and Diffusion of a Programme for the Prevention of Obesity
This paper aims to contribute to the literature on the role of entrepreneurs in social and institutional change. Having described the types of "intermediary-entrepreneurs" and "translator-entrepreneurs" which have previously been identified in sociology, the authors propose a third type, that of the "boundary-entrepreneur" defined as an actor at the border of closed universes, a boundary-object and a border-guard. The study of the creation of a French programme for the prevention of childhood obesity helps to identify some of its promoters as boundary-entrepreneurs. The paper shows that these promoters have extended their self-presentations to fit into a world of multiple institutional boundaries and conflicts. By adopting the symmetrical point of view of the programme's partners, the authors show that their recruitment was based on a series of projections and selective appropriations about the identity of the promoters of the programme and the actions that were developed.
Cet article entend apporter une contribution à la littérature sur le rôle des entrepreneurs dans le changement social et institutionnel. Après avoir décrit les figures de « l'entrepreneur-passeur » et de « l'entrepreneur-traducteur », déjà clairement identifiées en sociologie, les auteurs proposent une troisième figure, celle de « l'entrepreneur-frontière », défini tout à la fois comme acteur à la frontière d'univers cloisonnés, objet-frontière et garde-frontière. L'étude de la genèse d'un programme français de prévention de l'obésité infantile conduit à identifier certains de ses promoteurs comme des entrepreneurs-frontières. L'article montre que ces promoteurs ont multiplié les présentations de soi pour se fondre dans un univers institutionnel traversé par de multiples frontières et conflits. Adoptant le point de vue symétrique des partenaires du programme, les auteurs montrent que leur enrôlement a reposé sur une série de projections et d'appropriations sélectives concernant l'identité des promoteurs du programme et les actions développées.
Fichier principal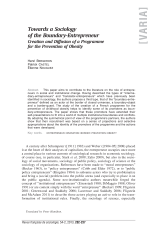 2013-bergeron-castel-nouguez-toward-a-sociology-of-the-boundary-entrepreneur.pdf (411.95 Ko)
Télécharger le fichier
Origin : Publisher files allowed on an open archive