État et secteur énergétique en France : quels dirigeants pour quelles relations ?
Since the end of the 1980s the state has been engaged in a withdrawal from the management of nationalized businesses. The institutional environment for industrial firms has changed considerably as a result. Firms have internationalized and a number of markets have been liberalized. What has been the result of these changes for relations between the state and big business? In this article I set out to respond to this question looking at the case of the energy sector, in which the state has played a large role as a shareholder since the beginning of the 1990s. Considering the managers of the largest firms in this sector to be business resources, I will identify the strategies implemented by these firms, which reveal recourse to the state and notably the political sphere. The changes to the social properties of the energy sector managers have proceeded in two directions during the last two decades. The firms have it both ways, exhibiting both their independence from the state through administrative boards, while reinforcing informal ties with the political sphere through their executive committees.
Depuis la fin des années 1980, l'État a engagé un mouvement de retrait de la gestion des entreprises nationalisées. L'environnement institutionnel des firmes industrielles a de ce fait fortement évolué. Elles se sont internationalisées et nombre de marchés ont été libéralisés. Comment ces mouvements se sont-ils traduits dans les relations entre l'État et les grandes entreprises ? On se propose, dans cet article, de répondre à cette question en prenant pour cas le secteur de l'énergie, au sein duquel l'État joue un rôle actionnarial fort au début des années 1990. En considérant les dirigeants des plus grandes firmes de ce secteur comme autant de ressources pour les entreprises, on spécifiera les stratégies mises en œuvre par les firmes, qui révèlent un recours à l'État et notamment à la sphère politique. Les transformations des propriétés sociales des dirigeants énergéticiens ont suivi un double mouvement durant les deux dernières décennies. Jouant sur deux tableaux, les firmes affichent leur indépendance vis-à-vis de l'État via les conseils d'administration, tout en renforçant des liens informels avec la sphère politique via leurs comités exécutifs.
Fichier principal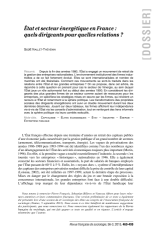 2015-viallet-thevenin-etat-et-secteur-energetique-en-france.pdf (1.29 Mo)
Télécharger le fichier
Origin : Publisher files allowed on an open archive