Le pivot européen vers l'Asie : un nouvel équilibre à trouver ?
The year 2017 poses a number of existential dilemmas for Europe. On the regional front, several key domestic elections will likely determine the future direction of the European Union. The international situation also presents many equally significant challenges. As the Asia Pacific region spearheads the global recovery from the 2008 financial crisis, the European pivot to Asia stands poised to accelerate. A series of economic and security issues throughout the region present both opportunities and challenges for European member states; items on the agenda include persistent trade imbalances, climate change, maritime security and the law of the sea. With the rise in authoritarian governance worldwide and the push for regime neutrality within international institutions, how should the EU and its democratic member states respond to a potentially volatile realignment of geopolitics in Asia? China's continuing economic rise, coupled with its uneven human rights record and territorial push into the South China Sea, poses a particular challenge for the European Union. This paper will examine the advantages and disadvantages of a heightened interdependence with Asian markets, as well as the security dimension of Europe's presence in the region, including its longstanding commitment to free navigation and fair allocation of resources according to international law.
Au cours de l'année 2017, l'Europe sera confrontée à des choix essentiels. Plusieurs élections nationales seront déterminantes pour l'avenir de l'Union européenne. La situation internationale suscite également de nombreux défis, tout aussi importants. Alors que la région de l'Asie-Pacifique mène la reprise économique mondiale depuis la crise financière de 2008, le pivot européen vers l'Asie est en passe de s'accélérer. Une série d'enjeux économiques et sécuritaires au sein de la région présentent tout à la fois des opportunités et des défis pour les États membres de l'Union européenne. Les sujets à l'ordre du jour incluent les déséquilibres commerciaux persistants, le changement climatique, la sécurité maritime, ainsi que le droit de la mer. Comment l'Union européenne devra-t-elle réagir face à la montée d'une certaine gouvernance autoritaire dans le monde, à la propagation du concept de « neutralité du régime » dans les institutions internationales, ainsi qu'à un réalignement instable de la géopolitique en Asie ? La croissance économique continue de la Chine, son bilan inégal en matière de droits de l'Homme, ainsi que son expansion territoriale en mer de Chine méridionale, représentent un défi particulier. Cette étude analysera les avantages et les désavantages d'une interdépendance renforcée avec les marchés asiatiques, ainsi que la dimension sécuritaire du pivot européen vers l'Asie. Cela inclut l'engagement de l'Union européenne sur le long terme pour défendre le principe de la liberté de navigation et la répartition équitable des ressources selon le droit international.
Fichier principal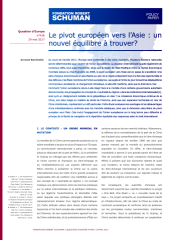 arnault.barichella.pivot-europe-asie-schuman.pdf (1.74 Mo)
Télécharger le fichier
Origin : Publisher files allowed on an open archive