Entreprises et dirigeants familiaux
This chapter is based on a systematic study of the 120 largest listed firms in France and their CEOs and directors in 1956, 1979, and 2009. We use this information to discuss definitions of family firms (based on property and/or control) and the peculiarities, or lack thereof, of these firms and their CEOs and directors. We expand Jean-Claude Daumas' conclusions on the 1950s-1970s, showing that family capitalism has not disappeared in France, but has adapted to financialization, for example by serving higher dividends. The CEOs and directors of family firms, however, still exhibit specific profiles: they come from slightly less prestigious schools but from more endowed families, and they have rarely worked for the administration.
Ce chapitre repose sur une étude systématique des 120 plus grandes sociétés françaises cotées et de leurs administrateurs et principaux dirigeants, en 1956, 1979 et 2009. Sur cette base, il revient sur deux problématiques explorées par Jean-Claude Daumas : la définition de l'entreprise familiale, jamais évidente, entre propriété et contrôle ; et les spécificités des entreprises et dirigeants familiaux. Prolongeant ses conclusions sur les Trente Glorieuses, le chapitre montre que le capitalisme familial n'a toujours pas disparu, mais s'est adapté : les politiques de distribution de dividendes, en particulier, ont perdu leur spécificité. C'est surtout le profil de leurs dirigeants et administrateurs - plus souvent héritiers, mais aussi relativement moins diplômés et plus rarement issus de la haute administration - qui continue à différencier les entreprises familiales des autres.
Fichier principal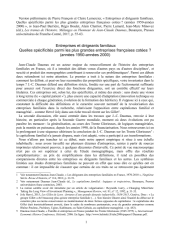 francois-lemercier-melanges-daumas.pdf (156.65 Ko)
Télécharger le fichier
Origin : Files produced by the author(s)