From Local Legislation to Global Structuring Frame
If we take a long-range view of competition regimes, we can document in the 20th century a case of major transformation. There has been a double evolution – away from cooperation and cartelization and towards competition on the one hand, from nationally bounded regimes to a globally interconnected regulatory sphere on the other. The antitrust tradition that emerged in the USA at the turn of the 20th century has gained significant and widespread influence after 1945, imposing itself in many parts of the world. The objective of this article is to retrace the process by which antitrust has gone from being a local legal rule to a nearly global structuring frame. We trace the fate of a local set of ideas turning into international politics and globally accepted principles. We also show that those global principles are subject to and interact with local politics – through the process of diffusion but also in their implementation.
Si adoptamos una perspectiva amplia de los regimenes de competencia, podemos documentar un caso de gran transformación durante el siglo XX. Hemos visto una doble evolución – pasando de la cooperación y la cartelización hacia la competencia, por un lado, de los regimenes constreñidos a escala nacional, a una esfera reguladora interrelacionada a escala mundial por otro lado. La tradición antitrust que salió de los Estados Unidos al principio del siglo XX obtuvo gran influencia después de 1945, y fue adoptada en muchas regiones del mundo. Este art'culo trata de volver sobre el proceso por lo cual la legislación antitrust se ha transformado de una ley local en un marco de estructuración global. Examinamos el destino de una colección local de ideas que se transforman en la pol'tica internacional y en principios que son aceptados a escala mundial. Mostramos también que esos principios globales están sujetos a la pol'tica local, y que se relacionan con ella – por el proceso de diffusión y también por su implementación.
Si on prend une vue à long terme des régimes de compétition, on peut documenter au cours du 20ème siècle un cas de transformation exceptionnelle. L'évolution a été double - de la coopération et la cartelisation vers la compétition, d'une part, de régimes définis nationalement vers un cadre de régulation global d'autre part. La tradition de l'antitrust qui émerge aux Etats-Unis au tournant du 20ème siècle s'est répandue depuis 1945 et s'est progressivement imposée dans de nombreuses régions du monde. Le but de cet article est de reconstituer le processus par lequel l'antitrust s'est transformé d'une règle locale en un cadre de structuration presque global. Nous suivons le destin d'un ensemble d'idées à l'origine locales qui se transforment en politiques internationales et en principes globalement acceptés. Nous montrons aussi que ces principes globaux interagissent étroitement avec les politiques locales, à travers le processus de diffusion comme au moment de leur implémentation.
Fichier principal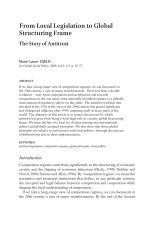 2005-djelic-from-local-legislation-to-global-structuring-frame.pdf (303.02 Ko)
Télécharger le fichier
Origin : Files produced by the author(s)