Un futur antérieur : Le rapport aux données dans le travail de prévision macroéconomique
Macroeconomic forecasting decisively relies on the assessment of economies' current situations. Forecasters' work therefore shares common features with statistical work. This paper draws upon A. Desrosières's typology to emphasize how forecasting combines various ways of tackling "data" and assessing their "realism." It also sheds light on some principles according to which such combinations may be understood, such as the division of labor in the world of forecasting, forecasters' categories of classification, instruments that are used for the purpose of forecasting, and the temporalities of forecasting exercises.
L'activité de prévision macroéconomique repose de manière décisive sur la description de la situation présente des économies, rapprochant l'activité de prévisionniste de celle du statisticien. En mobilisant la typologie proposée par A. Desrosières, ce texte met en évidence la façon dont l'activité de prévision articule quatre rapports différents aux « données », à partir desquels est évalué leur « réalisme ». Il étudie aussi certains des principes par lesquels il est possible de rendre compte de leur combinaison : division du travail, catégories de classement mobilisées par les prévisionnistes, instruments utilisés pour prévoir, temporalités des exercices de prévision.
Fichier principal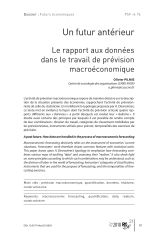 2018-pilmis-un-futur-anterieur.pdf (187.65 Ko)
Télécharger le fichier
Origin : Publisher files allowed on an open archive