L'encastrement des relations entre marchands en France, 1750-1850 : Une révolution dans le monde du commerce ?
The Embeddedness of Relationships between Merchants in France (1750–1850). A Revolution in Commerce? Narratives of modernization often describe the period between 1750 and 1850 as marking a transition from embedded economic relationships (relying on kinship or community ties) to impersonal market transactions supported by legal arrangements. This article questions these narratives by studying three sets of tools employed by early modern and modern merchants on a daily basis: letters of introduction, circular letters, and notarized proxy forms. Systematic quantitative and qualitative analysis of these documents reveals few traces of a revolution or even a consistent linear evolution. To the contrary, it challenges the opposition between embedded and completely disembedded relationships. Indeed, there is strong evidence that personal and impersonal supports for economic transactions complemented rather than substituted one another. In addition, other types of embeddedness also played an important role: on the one hand, repeated interactions and relational chains involving intermediaries; on the other, a homophilic sociability among merchants that was partly based on the shared language of commerce.
La période 1750-1850 est souvent placée au centre des grands récits de la modernisation, notamment ceux qui la caractérisent par un passage de relations économiques encastrées dans des liens familiaux ou communautaires à des transactions impersonnelles uniquement appuyées sur le marché et des dispositifs juridiques. Ces récits sont ici mis à l'épreuve à travers l'analyse systématique de trois corpus de sources correspondant à des instruments largement utilisés par les marchands de l'époque : lettres d'entrée en relation, lettres circulaires et procurations notariées. Cette étude, à la fois qualitative et quantitative, ne met en évidence aucune révolution, et peu d'évolutions linéaires. En revanche, elle conduit à dépasser l'opposition entre des transactions commerciales encastrées et totalement désencastrées. De nombreux indices de la complémentarité entre des transactions économiques personnalisées et d'autres plus impersonnelles sont en effet perceptibles. D'autres types d'encastrement jouent aussi un rôle important : d'une part, les relations répétées ou celles établies par l'intermédiaire de tiers ; d'autre part, une forme d'homophilie sociale entre marchands, fondée notamment sur le partage d'un langage commun, celui du commerce.
Fichier principal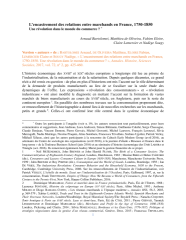 bartolomei-et-al-encastrement.pdf (1.21 Mo)
Télécharger le fichier
Origin : Files produced by the author(s)