La réforme comme opportunité professionnelle ? Autonomie des établissements et montée en puissance des cadres administratifs des universités
Institutional autonomy and the rise of administrators in French universities Following an extensive reform of university governance in 2007, this article analyzes the changing role of professional administrators in French universities, such as heads of administrative services, functional experts and support staff managers. Drawing on two case studies, it addresses a blind spot in the literature on public sector professional bureaucracies, which has largely overlooked the role that support staff may play in the development of managerialism in public institutions. The reform provided space allowing these actors to promote the rationalization and the centralization of university administrations. While this process vastly increased their influence over organizational sub-units within universities, they have been cautious not to challenge the authority and role of academic leaders in university governance. In order to legitimize their action, they have positioned themselves as management experts serving the goals of academic leaders by tightening budgetary control and providing resources at the disposal of university presidencies.
Cet article analyse le rôle joué par les cadres administratifs des universités françaises dans la mise en œuvre de la loi Libertés et responsabilités des universités de 2007. Il vise à combler un point aveugle de la littérature sur les transformations des bureaucraties professionnelles, qui a largement négligé l'analyse des fonctions de support administratif, alors même que celles-ci peuvent être l'un des vecteurs privilégiés de logiques managériales. Porteurs d'un « esprit de mission » gestionnaire, une partie de ces cadres saisissent l'opportunité de la réforme pour rationaliser l'administration des établissements et consolider leurs propres capacités d'action. Toutefois, loin de remettre en cause l'autorité des dirigeants universitaires, ils cherchent à se légitimer en développant des registres d'intervention distincts et en œuvrant au renforcement du pouvoir de ces derniers.
Fichier principal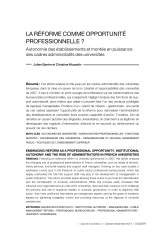 2015-musselin-barrier-la-reforme-comme-opportunite-professionnelle.pdf (188.17 Ko)
Télécharger le fichier
Origin : Publisher files allowed on an open archive