Compte rendu de Pierre Bourdieu, Anthropologie économique : Cours au Collège de France 1992-1993, Le Seuil et Raisons d'Agir, Paris, 2017, 352 p.
Pierre Bourdieu's lessons on the "social foundations of economic action" are published under the title "Anthropologie économique" [Economic Anthropology]. To him, the expression outlines the project of a "general theory of the economy of practices", beyond any disciplinary anchorage, so that sociologists, economists or ethnologists can become anthropologists (lecture of April 29, 1993, p. 75). In addition to Bourdieu's empirical interest in economics, rightly recalled by Julien Duval in his afterword (p. 268- 269), the course sheds light on his relations with economics.
Le cours qu'a consacré Pierre Bourdieu aux « fondements sociaux de l'action économique » est publié sous le titre d'Anthropologie économique. Cette expression désigne pour l'auteur le projet d'une « théorie générale de l'économie des pratiques », par-delà tout ancrage disciplinaire, si bien que sociologues, économistes ou ethnologues peuvent se faire anthropologues (cours du 29 avril 1993, p. 75). Outre l'intérêt empirique de Bourdieu pour l'économie, rappelé avec justesse par Julien Duval dans sa postface (p. 268- 269), le cours éclaire ses relations avec la science économique.
Fichier principal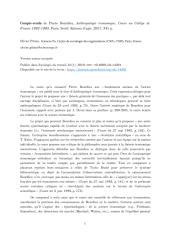 2019_Pilmis_Bourdieu Anthropologie Economique.pdf (103.73 Ko)
Télécharger le fichier