Criticism and resistance to health and managerial reforms. The case of French blood donation physicians
Críticas y formas de resistencia de una medicina bajo influencia. Los médicos de la donación frente a la racionalización de sus prácticas
Critiques et formes de résistance d'une médecine sous influence. Les médecins du don face à la rationalisation de leurs pratiques
Since the health crisis of 1990s little research has been devoted to how blood transfusion policy reforms have transformed the medical practices in this professional space. How donation physicians who ensure daily health safety by selecting blood donors are appropriating the standard-setting instruments which frame their activities of risk prevention? Not limited to the analysis of medical practices harmonization, this work reports a plurality of uses of the contraindication to blood donation normative references. This diversity enables us to characterize the various critics and lines of resistance to health and managerial reforms according to the professional paths and positions that blood donation physicians occupy in the different Breton sites where the investigation was conducted.
Desde las crisis sanitarias de la década de los noventa, pocos estudios se han centrado en analizar la manera en que las reformas de la transfusión sanguínea transformaron las prácticas médicas de este espacio profesional. ¿De qué manera los médicos de la donación que garantizan la seguridad sanitaria mediante la selección de los donantes de sangre se apropian de los instrumentos normativos que enmarcan su actividad de prevención de riesgos? Sin reducir el análisis a la mera homogeneización de las prácticas médicas, respondemos dando cuenta de la pluralidad de usos de los referenciales de contra-indicación de la donación de sangre. Esta diversidad permite caracterizar puntos de crítica y líneas de resistencia frente a las reformas sanitarias y de gestión en función de las trayectorias profesionales y de las posiciones ocupadas por los médicos de la donación en los diversos sitios de Bretaña donde se llevó a cabo la investigación.
Depuis les crises sanitaires des années 1990, peu de travaux ont porté sur la façon dont les réformes de la transfusion sanguine ont transformé les pratiques médicales de cet espace professionnel. Comment les médecins du don, qui assurent quotidiennement la sécurité sanitaire en sélectionnant les donneurs de sang, s'approprient-ils les instruments normatifs qui cadrent leur activité de prévention des risques ? Sans réduire l'analyse à celle de l'homogénéisation des pratiques médicales, nous répondons en rendant compte d'une pluralité des usages des référentiels de contre-indications au don du sang, diversité qui permet de caractériser des points de critique et des lignes de résistance aux réformes sanitaires et managériales selon les trajectoires professionnelles et les positions que les médecins du don occupent au sein des différents sites bretons dans lesquels l'enquête a été menée.
Fichier principal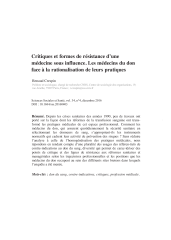 2016-crespin-critiques-et-formes-de-resistance-d-une-medecine-sous-influence-vauteur.pdf (350.73 Ko)
Télécharger le fichier
Origin : Files produced by the author(s)