Qui gardera les gardiens ? Sécurité industrielle et production d'incertitude à Karachi
Who's Watching the Watchmen? Corporate Security and the Manufacturing of Uncertainty in Karachi The history of industrial capitalism and its modes of domination is intimately linked to that of violent entrepreneurs deploying their coercive resources at the service of workplace discipline, the extraction of surplus value and the securitization of the accumulation cycle. The relationship between capital and coercion is always fraught with tensions, though, and sustains new vulnerabilities among securityconsuming elites. The manufacturing economy of Karachi is a particularly fertile ground for studying this endogenous production of insecurity by security devices. The relations between Karachi's factory owners and their guards have generated their own economy of suspicion. Various attempts to conjure this shaky domination have generated new uncertainties, calling for new methods of control to keep the guards themselves under watch.
L'histoire du capitalisme industriel et de ses modes de domination est intimement liée à celle d'entrepreneurs de violence déployant leurs ressources coercitives au service de la discipline usinière, de l'extraction de plus-value et de la sécurisation du cycle d'accumulation. Ces rapports capital-coercition débouchent rarement sur un phénomène d'osmose et tendent à susciter de nouvelles vulnérabilités parmi les élites consommatrices de sécurité. L'économie manufacturière de Karachi constitue un terreau particulièrement fertile pour étudier cette production endogène d'insécurité par les dispositifs sécuritaires. Les relations entre le patronat industriel de Karachi et ses gardiens relèvent en effet d'une domination inquiète, dont les tentatives de renforcement ont systématiquement engendré de nouvelles incertitudes, appelant de nouveaux modes de contrôle pour garder les gardiens eux-mêmes.
Fichier principal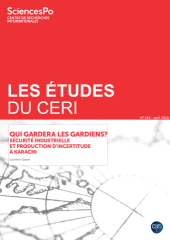 2019-04-gayer-gardiens-karachi-etudes-ceri-243.pdf (815.45 Ko)
Télécharger le fichier
Origin : Publisher files allowed on an open archive