« Homosexualiser » un rituel chrétien. Le Fêtez-Dieu de l'association David & Jonathan
The literature on gay and lesbian Christians focuses on the process of identity negotiation between their religious and sexual identifications. The means fostering this process, however, such as the religious practices proposed by gay or inclusive Churches and organizations, have been understudied. This article deals with a specific ritual of the Parisian group of the organization David & Jonathan: the Fêtez-Dieu. This ritual is neither a traditional rite nor a practice pertaining to "secular forms of religiosity." Based on ethnographical observations and in-depth interviews with members of the organization David & Jonathan, this article shows how the Fêtez-Dieu articulates a religious socialization and a homosexual socialization, thus encouraging the process of identity tension reduction. The criticisms addressed to the Fêtez-Dieu nonetheless reveal that the ritual operates through different modes of appropriation. Finally, the article aims at contributing to the analysis of homosexual socialization and religious modernity.
La littérature sur les chrétien·ne·s gays et lesbiennes souligne en particulier les renégociations identitaires qu'ils et elles opèrent entre leur identification religieuse et leur identification sexuelle. Les moyens de ces renégociations, comme les pratiques religieuses proposées par les Églises inclusives et les organisations LGBT confessionnelles, restent cependant peu documentés. Cet article s'intéresse au rituel du Fêtez-Dieu du groupe parisien de l'association David & Jonathan. Il s'agit d'un rituel spécifique en ce qu'il n'est ni un rite traditionnel proposé par une dénomination religieuse inclusive instituée, ni une pratique issue des « religiosités séculières ». Sur la base d'observations ethnographiques et d'entretiens avec des membres de David & Jonathan, l'article montre comment le rituel du Fêtez-Dieu articule une socialisation religieuse à une socialisation homosexuelle, favorisant ainsi la réduction de la tension identitaire. Les critiques adressées au Fêtez-Dieu révèlent toutefois différents modes d'appropriation du rituel. L'article espère ainsi contribuer à l'analyse des socialisations homosexuelles secondaires et de la modernité religieuse.
Fichier principal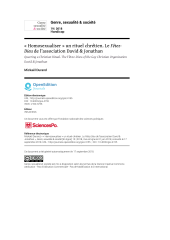 durand-2018-homosexualiser.pdf (404.8 Ko)
Télécharger le fichier
Origin : Publisher files allowed on an open archive