Les rituels de vote en France et au Royaume-Uni
Voting is a symbolic practice. Yet, political scientists tend to focus either on the outcomes of elections or on citizens' motivations to vote in the first place – typically by building models of the former on assumptions made about the latter. By doing so, they forget the symbolic significance of the practice itself and the meaning it has for the participants. In this paper, we seek to restore a focus on this symbolic dimension, through an analysis of voting rituals in France and Britain. We explore what citizens do when they vote. In particular we pay attention to how the voter's choice is constructed as either something that can be performed and hence displayed publicly or as irredeemably secret and private. We consider how such typically taken-for-granted practices help us understand the extent to which these actions reflect divergent assumptions about the boundaries of the public and the private and contribute to construct particular visions of the polity and the place of citizens in the democratic process.
Le vote est une pratique symbolique. Pourtant, les politistes tendent à se focaliser sur les résultats des élections ou sur les motivations du vote, en oubliant la signification symbolique de la pratique elle-même et celle qu'elle a pour les participants. Dans cet article, nous attirons l'attention sur cette dimension à travers une analyse des rituels de vote et France et au Royaume-Uni. Nous considérons ce que les électeurs font lorsqu'ils votent. En particulier, nous nous interrogeons sur la manière dont le choix de l'électeur est conçu comme une performance publique ou comme un acte accompli en privé et en secret. Nous considérons comment des pratiques, typiquement tenues pour évidentes et pourtant distinctes, nous aident à mieux comprendre dans quelle mesure ces actes reflètent des frontières différentes du public et du privé dans les deux pays, et contribuent à construire des conceptions singulières nationales du système politique et du citoyen dans le processus démocratique.
Fichier principal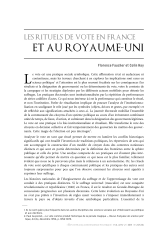 2015-faucher-les-rituels-de-vote-en-france.pdf (271.57 Ko)
Télécharger le fichier
Origin : Publisher files allowed on an open archive