Les strategies de publication des politistes français
This paper analyzes the publication strategies of French political scientists based on online polling figures from 2009. The figures reveal a great diversity of publication strategies, probably due to the lack of unity in French political science scholarship. It also points up the widespread disconnect between membership of the core academic community and international publication strategies. This cleavage at least partly coincides with a methodological divide. French political science is thus characterized by several deep divisions that seem hard to overcome, despite the existence of some common ground, i.e. a certain number of "neutral" journals.
Les politistes français face aux revues scientifiques. Résultats d'un sondage en ligne.Cet article analyse les stratégies de publication des politistes français à partir des résultats d'un sondage en ligne réalisée en 2009 auprès des politistes français. Il démontre la grande diversité des comportements et des stratégies et essaie d'identifier les determinants de cette diversité. Une première raison est sans doute le manque d'unité de la discipline qui entraîne une certaine dispersion des politistes dans leurs stratégies de publication. Mais, il montre aussi que pour l'heure l'inscription dans le champ disciplinaire en France va souvent à l'encontre de stratégies de publication internationalisées. Ce clivage se superpose au moins partiellement avec un clivage méthodologique avec un petit groupe de quantitativistes internationalisés. Ainsi, la science politique française est multiple et traversée par des clivages profonds. Ils semblent difficilement surmontables, malgré l'existence d'un terrain « neutre », c'est-à-dire des revues communes à tous les sous-groupes.
Fichier principal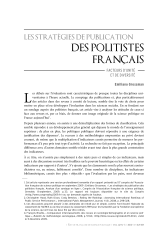 2010-grossman-les-strategies-de-publication-des-politistes-francais.pdf (666.05 Ko)
Télécharger le fichier
Origin : Publisher files allowed on an open archive