The Ambiguous Consensus on Fiscal Rules
In recent years, all eurozone member states have introduced national fiscal rules, which put limits on public deficits and debt. Fiscal rules reduce the fiscal policy discretion of politicians and affect their capacity to use public budgets for macroeconomic steering and redistribution. While such institutional discretion constraints run against the traditional policy preferences of social democratic parties, it is puzzling why they supported national fiscal rule reforms during the European debt crisis. This paper argues that the concept of structural deficit rules, central to reform efforts across the eurozone, allowed for the formation of an ambiguous consensus between center-right and center-left parties. While conservative and liberal parties are generally supportive of insti-tutional discretion constraints, structural deficit rules – in contrast to nominal deficit rules – allowed social democratic and other left-wing parties to link such rules with their broader policy preferences of Keynesian countercyclical policymaking and the protection of tax revenues across the economic cycle to ensure the state's capacity for redistribution. Drawing on three country case studies (Germany, Austria, France), this paper shows how the concept of structural deficit rules facilitated – at least discursively – the support for discretion-constraining institutions among social democratic and other left-wing parties. In theoretical terms, this study also advances research on the role of ambiguity in political decision-making, (re-)conceptualizing three forms of ambiguity underlying ambiguous consensus: textual ambiguity, institutional ambiguity, and ideational ambiguity.
Au cours des dernières années, tous les pays membres de la zone euro ont introduit des règles budgétaires nationales qui fixent des limites à la dette et aux déficits publics. Les règles budgétaires réduisent le pouvoir discrétionnaire des responsables politiques en matière budgétaire et affectent leur capacité à utiliser les budgets publics pour le pilotage macroéconomique et pour la redistribution. Alors que ces contraintes institutionnelles vont à l'encontre des préférences traditionnelles des partis sociaux-démocrates, on peut s'étonner de constater que ces derniers ont soutenu les réformes des règles budgétaires pendant la crise de la dette en Europe. Cette étude défend l'idée selon laquelle les règles sur le déficit structurel, un concept central des initiatives de réforme au sein de la zone euro, ont abouti à un consensus ambigu entre les partis du centre-droit et ceux du centre-gauche. Tandis que les partis conservateurs et libéraux soutiennent généralement les contraintes sur le pouvoir discrétionnaire des institutions, les règles sur le déficit structurel – contrairement aux règles sur le déficit nominal – ont permis aux partis sociaux-démocrates et à d'autres partis de gauche de les relier à leurs préférences pour des politiques keynésiennes contra-cycliques plus larges et au maintien des impôts sur les revenus tout au long du cycle économique, afin d'assurer la capacité redistributive de l'État. Sur la base d'études de cas portant sur trois pays (Allemagne, Autriche et France), cet article montre comment le concept de règles sur le déficit structurel a facilité – du moins au niveau discursif – le soutien des contraintes institutionnelles par les partis sociaux-démocrates et par d'autres partis de gauche. Sur le plan théorique, la présente étude développe la recherche sur le rôle de l'ambiguïté dans la prise de décisions politiques, en (re)conceptualisant trois formes d'ambiguïté sous-jacentes au consensus ambigu : l'ambiguïté textuelle, l'ambiguïté institutionnelle et l'ambiguïté conceptuelle.
Fichier principal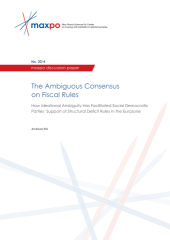 eisl-maxpodp20-4.pdf (602.8 Ko)
Télécharger le fichier
Origin : Publisher files allowed on an open archive