Dégressivité des allocations chômage : que peut-on en attendre ?
Declining unemployment benefits is a popular provision of Unemployment Insurance, due to its intuitive mechanism of financial pressure on benefits recipients. However, it faces strong opposition from the targeted unemployed, and also in the economic literature. Indeed, when analyzing declining UI benefits into a comprehensive landscape of the various aspects of unemployment insurance, a large majority of economic studies rule out this design, theory largely favors constant or progressive benefits and, despite the immediate gains of a declining pattern as regards exits from unemployment and a fall of insurance expenditure, economic evaluations conclude to many adverse effects. In practice, only a minority of countries similar to France have implemented declining UI benefits. Despite this inauspicious background the insurer may choose this formula preventing the odds: if so, declining benefits should be part of a coherent set of UI rules, allowing for positive effects to materialize and preventing adverse effects. Reviewing the rules that will soon be implemented in France, five aspects are highlighted that could raise difficulties. We propose operational solutions that can shed light and feed the round of negotiation currently underway.
La dégressivité des allocations chômage est une disposition populaire, car sa mécanique intuitive de pression financière sur les chômeurs possède la force de l'évidence ; elle fait cependant face à une forte opposition des chômeurs concernés, et dans la littérature économique. En effet, cette dernière replace la dégressivité au sein du panorama complet des différents aspects de l'assurance chômage, ce qui conduit très majoritairement à écarter cette modalité : la théorie plaide largement en faveur de profils constants ou progressifs, et si les gains immédiats de la dégressivité en termes de sorties du chômage et de baisse des dépenses d'assurance à court terme sont le plus souvent au rendez-vous, les évaluations observent de nombreux effets délétères. En pratique, la dégressivité n'est en vigueur que dans une petite minorité de pays comparables à la France. Si l'assureur choisit de retenir cette formule, il doit malgré tout inscrire la dégressivité dans un schéma cohérent permettant d'optimiser ses effets positifs et de prévenir ses effets indésirables, qui sont illustrés ici au travers de cinq aspects qui pourraient soulever des difficultés, en regard desquelles nous proposons des solutions pouvant éclairer la concertation actuellement en cours.
Fichier principal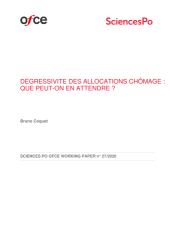 OFCEWP2020-27.pdf (1.64 Mo)
Télécharger le fichier
Origin : Publisher files allowed on an open archive