Dans les coulisses du confinement : modélisation de chocs simultanés d'offre et de demande
The Covid-19 pandemic and the first lockdown measures to stem its diffusion have resulted in a economic crisis of an unprecedent scale and nature. Undermined by shocks affecting both productive capacities and consumer behaviour, economic activity slumped by nearly 31% in April 2020 in France. In order to assess the effects of the Covid-19 shock, we rely on a modified version of Leontief's (1944) open model that allows us to study the diffusion of simultaneous supply and demand shocks through the productive fabric. We refer to it as a "mixed" model. Hence, by setting constraints on the production and not exclusively on final demand, we are able to determine the size of the shocks compatible with the economic downturn witnessed in April. We find that administrative closures alone explain 12 points of the decline, while school closures and other supply difficulties each explain 5 points. The decline final demand is responsible for 11 points of the drop in activity. Finally, the way shocks interact with one another mitigates the overall economic impact by 2 points.
L'épidémie de la Covid-19 et les mesures mises en œuvre pour enrayer la circulation du virus ont abouti à une crise économique d'une ampleur et d'une nature inédites. Mise à mal par des chocs touchant tant les capacités productivités des entreprises mais également les comportements des consommateurs, l'activité économique a chuté de près de 31 % au mois d'avril 2020. Afin d'évaluer les effets économiques du chocs Covid-19 au mois d'avril, nous avons recours à une version modifiée du modèle ouvert de Leontief (1944) permettant d'étudier de la diffusion de chocs simultanés d'offre et de demande à travers le tissu productif, c'est ce que nous appelons le modèle « mixte ». En fixant des contraintes au niveau de la production, et non pas exclusivement au niveau de la demande finale, il permet de déterminer la taille des chocs compatibles avec la baisse de l'activité observée. Selon notre évaluation, les fermetures administratives expliqueraient à elles seules 12 points de la baisse d'activité, les fermetures des écoles et les autres problèmes d'offre (incluant notamment les problèmes d'approvisionnement) expliqueraient chacun 5 points de la baisse de la valeur ajoutée au pire moment de la crise. Le choc de demande finale expliquerait 11 points de la baisse du PIB observée pendant le plus dur du confinement. Enfin, l'interaction entre les différents chocs permet d'atténuer légèrement l'impact des chocs et contribue favorablement à l'activité de 2 points.
Fichier principal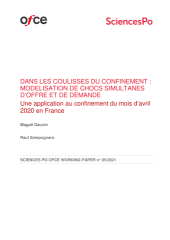 OFCEWP2021-05.pdf (1.34 Mo)
Télécharger le fichier
Origin : Publisher files allowed on an open archive