Assurance maladie : soins de court terme et traitement à long terme
Health spending as a share of GDP stands in France at the average level of industrial economies and much below than in the US. Recently, spending has rapidly accelerated leading to a rise in public health insurance accounts deficits. This paper analyses the factors behind these changes: ageing populations, rising incomes boosting the demand for high quality health care, medical progress. At the macro level the future increases in social contributions that will be needed to balance health accounts should be planned. But reforms are also needed at the micro level to improve the efficiency of the health care system. The reform decided in 2004 introduces some elements of managed care (computerised medical records; referent doctor in charge of care coordination) but does not alter the core structure of a system that performs well for the majority of the French.
Le déficit de l'assurance maladie a conduit le gouvernement à réformer le système de santé afin de modérer la croissance des dépenses. Dans ce contexte, l'article a pour objet de présenter l'état des lieux du système de santé et les différentes réformes envisageables. Dans sa dernière partie, il présente une première analyse des mesures décidées en 2004. La France dépense beaucoup pour la santé, mais nettement moins que les États-Unis et à peu près autant que ses principaux partenaires européens. Au cours des années 1990, la croissance des dépenses y a été particulièrement faible. La reprise observée récemment vient ainsi compenser une évolution anormalement faible au cours de la période antérieure. Toutefois, l'assurance maladie connaît un déficit structurel dû au fait qu'en moyenne, sur longue période, la croissance des dépenses est supérieure à celle du PIB. Les facteurs de cette croissance sont connus : augmentation des revenus — qui s'accompagne d'exigences plus grandes en matière de qualité des soins —, vieillissement de la population et progrès des techniques médicales. En conséquence, il serait naturel de programmer à l'avance les hausses de prélèvements nécessaires au financement des dépenses. Des réformes microéconomiques sont, en outre, nécessaires pour améliorer, ou simplement maintenir, l'efficacité du système. Compte tenu des particularités du service rendu par le système de soins, il n'est pas souhaitable de remettre en cause le principe de sa mutualisation dans le cadre d'une assurance publique. Comme la « responsabilisation » des patients, par une contribution directe au paiement des soins, ne peut être que limitée, les réformes envisageables portent surtout sur la restructuration de l'offre. La réforme de 2004 comporte des mesures susceptibles de contribuer à cette restructuration : meilleure coordination par l'informatisation du dossier médical, obligation de passage par un médecin référent, etc. Mais elle ne modifie pas les modalités de rémunération des médecins. Les mesures de 2004 ne changent donc pas radicalement un système auquel les Français sont sincèrement attachés.
Fichier principal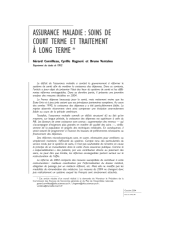 2004-10-cornilleau-assurance-maladie-soins-de-court-terme-et-traitement-a-long-terme.pdf (305.87 Ko)
Télécharger le fichier
Origin : Publisher files allowed on an open archive