La "responsabilité de protéger" et le recours à la force : leçons libyennes
The Responsiblity to Protect (R2P) and the use of force: lessons from Lybia - This paper attempts to define the 'Responsibility to Protect' as an emerging norm: while its normative existence is not questioned, the concept has yet to find legitimacy in the eyes of all international actors. Nevertheless, French strategic thinking has sought to make R2P a fundamental principle of its foreign policy with respect to national defense, creating a normative discrepancy. The analysis can be summed up in the three following hypotheses: • The international context in the post-bipolar period is characterized by a fragmentation of the so-called 'international community' and a redefinition of the concept of "war" ; • The 2005 World Summit made R2P a UN tool but essentially recalled the principle of state sovereignty ; • The 2011 intervention in Libya served to fuel dissensus further on R2P through identification of the concept with Western imperialism.
Cet article tente de définir la "responsabilité de protéger" (R2P) comme une norme émergente, dont l'existence normative n'est plus à démontrer, mais qui peine à trouver une légitimité devant tous les acteurs internationaux. Le paradoxe naît de la stratégie française de vouloir en faire un des principes directeurs de sa politique étrangère, comme le préconise le nouveau Livre blanc sur la défense et la sécurité nationale, malgré le dissensus qui s'exprime sur la R2P. L'analyse se résume en trois hypothèses : • Le contexte international dans la période post-bipolaire se caractérise par une fragmentation de la "communauté internationale" et une redéfinition de la notion de "guerre" ; • Le Sommet mondial de 2005, signant "l'Onuisation" du concept de la R2P, a préservé le souverainisme du système international ; • L'intervention en Libye a servi le dissensus sur la R2P en colorant le concept d'impérialisme occidental.
Fichier principal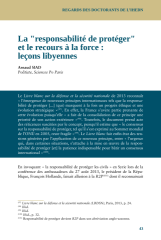 pages-de-lbdsn-2014.pdf (122.73 Ko)
Télécharger le fichier
Origin : Publisher files allowed on an open archive