Ottoman Legacies in Tunisia. The Bū Ḥājib's household from the 1870s to the 1930s.
La transmission de legs ottomans en Tunisie. La maisonnée Bū Ḥājib des années 1870 aux années 1930
By studying a Tunisian household, that of the Bū Ḥājib family, established in the second half of the 19th century, this essay explores the multiple forms of Ottoman legacies and the various Ottoman provincial practices used by some Tunisian elites well into the first five decades of the French colonization in Tunisia. This case study shows that families and household units – central to Ottoman society during the early modern period – remained vital to reshaping society through the action of women during the colonial period. Such an approach further reassesses an historiography whose conception was strictly colonial and focused on relations between metropolitan France and her Maghrebi colonies to the exclusion of other temporalities and Mediterranean lands and cities such as Italy, Istanbul and Cairo, all of which remained central to Tunisian people at that time.
À travers l'étude d'une stratégie patrimoniale développée par la famille Bū Ḥājib, dans la seconde moitié du xixe siècle à Tunis, cet article explore les formes multiples de legs ottomans et de pratiques provinciales ottomanes que des sujets tunisiens continuaient à mobiliser durant les cinq premières décennies de la colonisation française de la Tunisie. Cette étude de cas démontre ainsi que les stratégies familiales développées à partir de maisonnées – si cruciales dans la vie sociale et politique des provinces ottomanes aux temps modernes – continuaient à être des lieux de transformation sociale durant la période coloniale notamment par le biais des femmes. Cette approche micro permet aussi de remettre en cause une historiographie qui n'a pensé l'histoire de cette région que par le colonial et en ne se focalisant que sur les relations entre la métropole française et les colonies maghrébines, oubliant au passage, d'autres temporalités et d'autres territoires méditerranéens tels que l'Italie, Istanbul et Le Caire qui étaient encore des lieux importants pour des sujets tunisiens à l'époque.
Fichier principal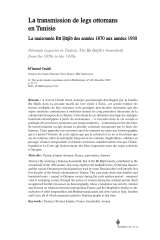 remmm-Oualdi-2021.pdf (2.6 Mo)
Télécharger le fichier
Origin : Publisher files allowed on an open archive