«Travailler plus pour gagner plus» : Análisis cultural de un lema de la campaña presidencial francesa de 2007
"Travailler plus pour gagner plus" ("Work more to earn more") was a slogan of right-wing candidate Nicolas Sarkozy during the 2007 French presidential election, which proposed exempting overtime working hours from taxation. In this article, I develop a cultural analysis of this political slogan. Its linguistic interest lies in its poetic and theatrical dimensions. The slogan is embedded in a rich cultural context: it refers to a doxa in right-wing discourse, according to which the "social model" should be replaced with a liberal model that also rescues the "value of work". It responded to voter economic and social concerns, which were supported by the media. Through such strong slogans, Nicolas Sarkozy claimed to embody a "rupture" from outgoing president Jacques Chirac, despite running for the same party. Since then, "travailler plus pour gagner plus" has become a mainstay both in political and popular culture.
"Travailler plus pour gagner plus" ("Trabajar más para ganar más") fue un lema del candidato de derecha Nicolas Sarkozy durante la campaña presidencial francesa de 2007; consistía en exonerar de impuestos las horas de trabajo que el empleado realizara adicionales al tiempo permitido legalmente. En este artículo, se desarrolla un análisis cultural de este lema político. Su interés lingüístico descansa sobre sus dimensiones poéticas y teatrales. Se sitúa en un contexto cultural rico al remitir a una doxa del discurso de derecha, según el cual el "modelo social" tiene que ser sustituido por un modelo liberal que a la vez rescate el "valor trabajo". Respondía a preocupaciones económicas y sociales del electorado, respaldadas por los medios de comunicación. Armándose de tales lemas contundentes, Nicolas Sarkozy afirmaba encarnar una "ruptura" con el presidente saliente Jacques Chirac, pese a representar al mismo partido. Por último, "travailler plus pour gagner plus" ha tenido gran posteridad tanto en la cultura política como popular.
"Travailler plus pour gagner plus" fut un slogan du candidat de droite Nicolas Sarkozy pendant l'élection présidentielle française de 2007 ; il s'agissait d'exonérer d'impôts les heures de travail effectuées au-delà de la durée légale du travail. Cet article développe une analyse culturelle de ce slogan politique. Son intérêt linguistique repose sur ses dimensions poétiques et théâtrales. Il s'inscrit dans un contexte culturel riche : elle se réfère à une doxa du discours de droite, selon lequel le « modèle social » doit être substitué par un modèle à la fois libéral et respectueux de la « valeur travail ». Il répond à des préoccupations économiques et sociales de l'électorat, appuyées par les médias. Avec des slogans forts, Nicolas Sarkozy affirmait incarner une « rupture » par rapport au président sortant Jacques Chirac, en dépit de représenter le même parti. Enfin, « travailler plus pour gagner plus » a eu une grande postérité dans la culture politique comme populaire.
"Travailler plus pour gagner plus" ("Lavorare di più per guadagnare di più") fu uno slogan del candidato di destra Nicolas Sarkozy durante l'elezione presidenziale francese del 2007 ; si trattava di esentare da imposte le ore di lavoro effettuate al di là della durata legale del lavoro. Questo articolo sviluppa un'analisi culturale di questo slogan politico. Il suo interesse linguistico si basa sulle sue dimensioni poetiche e teatrali. Si inserisce in un contesto culturale ricco : fa riferimento a una doxa del discorso di destra secondo cui il "modello sociale" deve sostituirsi allo stesso tempo a un modello liberale e rispettoso del "valore del lavoro". Risponde alle preoccupazioni economiche e sociali dell'elettorato, sostenuto dai media. Con slogan forti, Nicolas Sarkozy affermava incarnare una « rottura » rispetto al presidente in carica Jacques Chirac, a dispetto di rappresentare lo stesso partito. Infine, "travailler plus pour gagner plus" ha avuto una grande posterità nella cultura politica come popolare.
Fichier principal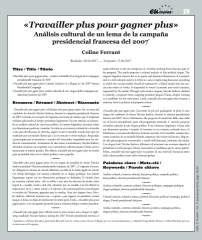 EU-topias-Vol.-17-2019-29-39.pdf (413.88 Ko)
Télécharger le fichier
Origin : Publisher files allowed on an open archive
Licence : CC BY NC SA - Attribution - NonCommercial - ShareAlike