A Decade of JDP Power in Turkey. Towards a Reconfiguration of the Ways of Governing ?
Une décennie de pouvoir AKP en Turquie. Vers une reconfiguration des modes de gouvernement ?
The Justice and Development Party (JDP) has been in power in Turkey since 2002, consolidating its electoral support among an array of social groups ranging from broad appeal among the popular classes to business leaders and a growing middle class. The success of the JDP is a consequence of the manner in which the party inserted itself into certain economic and social sectors. While the party has internalized the principles of reducing the public sphere and outsourcing to the private sector, it has not restricted the reach of government intervention. On the contrary, it has become increasingly involved in certain sectors, including social policy and housing. It has managed this through an indirect approach that relies on intermediaries and private allies such as the businesses and associations that is has encouraged. In this way, the JDP has developed and systematized modes of redistribution that involve the participation of conservative businessmen who benefit from their proximity to the decision-makers, charitable organizations, and underprivileged social groups. These public policies have reconfigured different social sectors in a way that has strengthened the Party's influence.
L'AKP, Parti de la Justice et du Développement, s'est maintenu au pouvoir en Turquie depuis 2002. Loin d'une usure du pouvoir, il a consolidé le soutien électoral de couches sociales diversifiées, réunissant une large partie des milieux populaires et de la classe moyenne en pleine expansion, mais aussi des milieux d'affaires. L'implantation de l'AKP tient à la manière dont ce parti s'est inséré au coeur de nombreux secteurs économiques et sociaux : bien qu'acquis aux principes de diminution de la sphère publique et de la délégation au privé, l'AKP n'a pas restreint le périmètre d'intervention de l'État. Au contraire, il est intervenu de manière accrue dans certains secteurs (politique sociale, logement). Il l'a fait de manière indirecte, en prenant appui sur des intermédiaires et alliés privés (entreprises, associations) qu'il a favorisés. Ainsi, l'AKP a mis en place et systématisé des modes de redistribution faisant intervenir des hommes d'affaires conservateurs bénéficiant de proximités avec les décideurs, milieu associatif charitable et couches sociales défavorisées. Ces politiques publiques ont reconfiguré différents secteurs sociaux dans un sens favorable à l'emprise du parti.
Fichier principal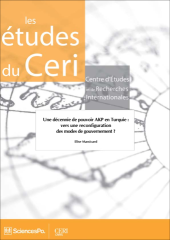 etude-205.pdf (583.12 Ko)
Télécharger le fichier
Origin : Publisher files allowed on an open archive