Les cash transfers à l'épreuve de l'intermédiation administrative en Ouganda
How are travelling models adapted locally? What role does administrative intermediation play? How are these models perceived by their target audiences? The article offers answers to these questions through the study of a pension program for the elderly in Uganda, adopting a policy feedback perspective. Political and administrative district authorities occupy an important place in the implementation of the program, and maintain relationships based on paternalistic dominance with its beneficiaries. This paternalistic dominance influences the way in which the latter perceive their pension, as a favor and not a right. As the beneficiaries feel morally indebted, their use of the pension can be oriented by the authorities without resorting to constraints.
¿Cómo se llevan a cabo los modelos viajeros localmente? ¿Qué rol juega la intermediación administrativa? ¿Cómo los reciben los públicos destinatarios? El artículo sugiere respuestas a tales cuestiones a través del estudio de un programa de pensiones para la tercera edad en Uganda y de una perspectiva de policy feedbacks. Las autoridades políticas y administrativas de los distritos ocupan un lugar importante en la ejecución del programa, y mantienen relaciones de dominación paternalista con los beneficiarios. Esta dominación incide en la manera en que estos últimos perciben la pensión, como un favor y no como un derecho. Los beneficiarios se sienten así deudores de una deuda moral a través de la cual las autoridades consiguen orientar, sin coaccionar, la utilización que aquellos realizan de la pensión.
Comment les modèles voyageurs sont-ils adaptés localement ? Quel rôle joue l'intermédiation administrative ? Quelle réception en font les publics cibles ? L'article propose des réponses à ces questions à travers l'étude d'un programme de pensions pour personnes âgées en Ouganda et d'une perspective de policy feedbacks. Les autorités politiques et administratives des districts occupent une place importante dans la mise en œuvre du programme, et entretiennent des rapports de domination paternaliste avec les bénéficiaires. Cette domination paternaliste influence la manière dont ces derniers perçoivent la pension, comme une faveur et non comme un droit. Les bénéficiaires se sentent ainsi redevables d'une dette morale, par laquelle les autorités parviennent à orienter, mais sans contraindre, leurs usages de la pension.
Fichier principal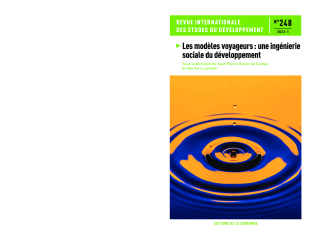 2022_jacquin_article_RIED_248.pdf (1.36 Mo)
Télécharger le fichier
Origin : Publisher files allowed on an open archive