Dynamique des allocataires du RSA à Paris
Due to its specialisation in the market services sector, the labour market in Paris was particularly affected by the health crisis and returned to normal less quickly than in the rest of France. This specificity is reflected in the flow of RSA beneficiaries: the number of beneficiaries increased by 14% over one year in Paris from November 2019 to November 2020 before starting to fall back to precrisis levels in 2021. Due to emergency measures (partial activity, extension of unemployment rights) the majority of households were protected from the immediate effects of the crisis and did not enter the RSA. In contrast, people who were protected neither by their status nor by the main emergency measures (selfemployed, unemployed without benefit) were overrepresented among the new recipients. The unusual desynchronisation between inflows and outflows during the crisis highlights that the number of recipients did not only vary according to the economic situation, but also as a result of exceptional intervention by the public authorities.
Dynamique des allocataires du RSA à Paris * Les auteurs adhèrent à la charte de déontologie du LIEPP disponible en ligne et n'ont déclaré aucun conflit d'intérêt potentiel. Par sa spécialisation dans le secteur des services marchands, le marché du travail à Paris a été particulièrement touché par la crise sanitaire, et a connu un retour à la normale moins rapide que le reste de la France. Cette spécificité se traduit dans les flux d'allocataires du RSA : le nombre d'allocataires connaît une croissance de 14% sur un an à Paris de novembre 2019 à novembre 2020 avant d'amorcer une décrue qui ne permet pas de revenir au niveau d'avant crise en 2021. Du fait des mesures d'urgences (activité partielle, prolongation des droits au chômage) la majorité des ménages a été protégée des effets immédiats de la crise et n'est pas entrée au RSA. Par contraste, les personnes qui n'étaient protégées ni par leur statut, ni par les mesures principales mesures d'urgence (travailleurs indépendants, chômeurs non indemnisés) ont été surreprésentées parmi les nouveaux allocataires. La désynchornisation inhabituelle entre les flux d'entrée et de sortie durant la crise, souligne que le nombre d'allocataires n'a pas seulement varié en fonction de la conjoncture, mais également du fait des interventions exceptionnelles des pouvoirs publics.
Fichier principal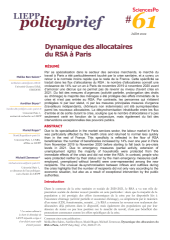 LIEPP-PB-61-Zemmour_et ali.pdf (1.28 Mo)
Télécharger le fichier
Origin : Publisher files allowed on an open archive