L'élection présidentielle de 1996 en Russie
The 1996 presidential election in russia -- Boris Yeltsin was reelected President of the Russian Federation on 3 July 1996, on the second round. Thanks to an effective and unfair campaign, he managed to rise again in voting intentions. Forty percent of the voters, nevertheless, preferred his communist rival, Guennadi Ziuganov, and there were almost 5 percent votes « against both candidates ». Russia is divided between those who can adapt to change and those who feel left behind. The maps of the results show that the electoral geography has been confirmed since the 1993 and 1995 elections. Russia votes and expresses itself. Universal suffrage has be­come the major democratic constraint which leaders cannot escape.
Boris Eltsine a été réélu le 3 juillet président de la Fédération de Russie, à l'issue du second tour. Grâce à une campagne efficace et inéquitable, il a réussi à opérer une très forte remontée dans les intentions de vote. 40 % des votants ont tout de même préféré son rival communiste, Guennadi Ziouganov, et près de 5 % ont voté « contre les deux candi­dats ». La Russie est divisée entre ceux qui peuvent s'adapter aux changements et les lais-sés-pour-compte. Les cartes des résultats montrent que la géographie électorale s'est confirmée depuis les scrutins de 1993 et les législatives de décembre 1995. La Russie vote et s'exprime. Le suffrage universel s'est imposé comme la grande contrainte démocratique à laquelle les dirigeants ne peuvent se soustraire.
Fichier principal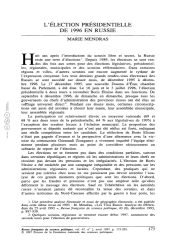 1997_mendras _l_election_presidentielle_de_1996_en_russie.pdf (4.78 Mo)
Télécharger le fichier
Origin : Publisher files allowed on an open archive
Licence : CC BY NC ND - Attribution - NonCommercial - NoDerivatives