Les cabinets de conseil privés dans l'action publique contre les épidémies : une revue exploratoire
While there is ample research in the social sciences on the role of private consulting firms in public action, their intervention in public management of health crises or epidemics is poorly studied. However, the COVID-19 pandemic has revealed a significant recourse to these firms by public administrations in many countries. The purpose of this exploratory review of scientific literature is to identify research on the involvement of these firms in the government of epidemics and health crises that have occurred since 2000. What do they say about the role of these firms, and what methods are used? The steps of the PRISMA-SCR model have identified only 24 references since 2000. The authors use three approaches to analyze the role of the firms: the managerial approach, consultocracy and the hybridization of the elites. This review reports on a blind point of scientific writing and calls for the conduct of empirical research on the subject.
Si la recherche en sciences sociales sur le rôle des cabinets de conseil privés dans l'action publique est foisonnante, leur intervention dans la gestion publique de crises sanitaires ou d'épidémies est peu étudiée. La pandémie de COVID-19 a pourtant révélé un recours important à ces firmes de la part d'administrations publiques de nombreux pays. Cette revue exploratoire des écrits scientifiques a pour objectif d'identifier les recherches qui portent sur la participation de ces cabinets au gouvernement d'épidémies et de crises sanitaires survenues depuis 2000 : que disent-elles du rôle de ces cabinets et quelles méthodes sont mobilisées ? Les étapes du modèle PRISMA-ScR ont permis d'identifier seulement 24 références depuis 2000. Trois approches sont mobilisées par les auteur·e·s qui déterminent leur analyses sur le rôle des cabinets : l'approche gestionnaire, la consultocratie et l'hybridation des élites. Cette revue permet de rendre compte d'un point aveugle des écrits scientifiques et appelle à la réalisation de recherches empiriques sur le sujet.
Fichier principal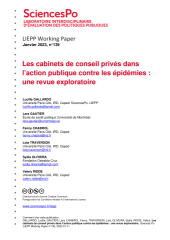 WP-139-Gallardo-Gautier-Chabrol-Traverson-Oliveira-Ridde.pdf (1.29 Mo)
Télécharger le fichier
Origin : Publisher files allowed on an open archive
Licence : CC BY NC ND - Attribution - NonCommercial - NoDerivatives