Quelle communication scientifique dans la lutte contre le changement climatique ?
In order to enhance the utilization of evidence in the political process, scientists have to communicate with various audiences, each of them having its own needs and characteristics. While the political agenda­setting phase of a problem tends to focus a lot of attention due to its usually high visibility, public action is not just about the formal political decision. To ensure the proper implementation of a public response to issues such as climate change, awareness has to be raised among politicians and the general public (problem advice) on the one hand, and a targeted expertise on the content of public policies has to be provided to governmental agencies on the other hand (policy advice). The knowledge and know-­how developed in the field of policy evaluation represent a key resource in this respect.
Afin de favoriser l'utilisation des résultats de la recherche dans le processus politique, les scientifiques doivent communiquer avec différents types de publics ayant des besoins et des caractéristiques propres. Alors que la phase de mise à l'agenda politique d'un problème tend à retenir l'attention en raison de sa forte visibilité, l'action publique ne s'arrête pas aux portes de la prise de décision politique. Pour assurer la mise en œuvre d'une réponse publique à des problématiques telles que le changement climatique, il s'agit d'une part de susciter la prise de conscience des éluꞏeꞏs et du grand public (communication scientifique axée sur le problème), mais aussi d'autre part de mettre à disposition des administrations une expertise portant sur le contenu des politiques publiques (communication scientifique axée sur les politiques publiques). Les savoirs et savoir-faire accumulés en évaluation des politiques publiques constituent à cet égard une ressource essentielle.
Fichier principal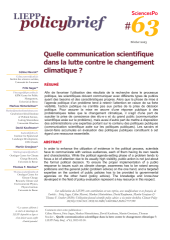 LIEPP-PB-63-Mavrot et al.pdf (1.2 Mo)
Télécharger le fichier
Origin : Publisher files allowed on an open archive
Licence : CC BY NC ND - Attribution - NonCommercial - NoDerivatives