Surveiller sans punir : la place du droit dans la prévention des risques professionnels
This article analyzes the role of law in the surveillance and prevention of occupational risks within a large public bureaucracy in France, based on a comparison of three services: a listening unit, an occupational health service, and an inspection mission. Each of these services offers legal intermediation activities that frame forms of legality, ranging from the most spontaneous to the most formal normative references. These references to the law make it possible to differentiate situations in order to create an occupational risk prevention policy that favors actions within the organization rather than external recourse. Deprived of any judicial horizon to use effectively to transform working conditions, the legal intermediaries in charge of occupational health and safety are nevertheless relying, even if in a differentiated way, on the law to work towards better risk prevention.
Cet article analyse la place du droit dans la surveillance et la prévention des risques professionnels au sein d'une grande bureaucratie publique française à partir d'une comparaison entre trois services : une cellule d'écoute, un service de médecine du travail et une mission d'inspection. Chacun de ces services offre des activités d'intermédiation juridique qui cadrent les formes de légalité, allant des plus spontanées aux références normatives les plus formelles. Ces références au droit permettent de désingulariser les situations pour fonder une politique de prévention des risques professionnels privilégiant des actions en interne à l'organisation plutôt que des recours externes. Privés de tout horizon judiciaire sur lequel jouer efficacement pour transformer les conditions de travail, les intermédiaires du droit en charge de la santé‑sécurité au travail misent malgré tout, même si de façon différenciée, sur le droit pour œuvrer à une meilleure prévention des risques.
Fichier principal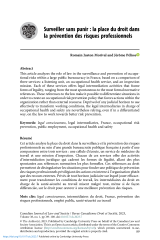 surveiller-sans-punir-la-place-du-droit-dans-la-prevention-des-risques-professionnels.pdf (264.05 Ko)
Télécharger le fichier
Origin : Publication funded by an institution
Licence : CC BY - Attribution