Officer-Involved: the media language of police killings
This paper studies the language used in television news broadcasts to describe police killings in the United States from 2013-19. We first document that the media is significantly more likely to use several language structures - e.g., passive voice, nominalization, intransitive verbs - that obfuscate responsibility for police killings compared to civilian homicides. We next use an online experiment to test whether these language differences matter. Participants are less likely to hold a police officer morally responsible for a killing, and to demand penalties, after reading a story that uses obfuscatory language. The impact of obfuscation on participants is especially strong when the individual is not reported to be armed. Finally, returning to the news data, we find that the media is especially likely to use obfuscatory language structures in police killings when the victim was unarmed, or when body camera video is available - i.e., when the public might be more inclined to judge the police harshly. Through this meaningful case study, our paper highlights the importance of incorporating the semantic structure of language, in addition to the amount and slant of coverage, in analyses of how the media shapes perceptions.
Cet article étudie les choix sémantiques dans les reportages télévisés sur les homicides policiers aux Etats-Unis entre 2013 et 2019. Nous montrons que les médias sont plus à même d'utiliser des formulations qui masquent la responsabilité des acteurs (formes passives, nominalisation, verbes intransitifs...) pour décrire les homicides imputables à la police plutôt qu'à des civils. Nous utilisons ensuite une expérience en ligne pour tester l'effet de ces choix narratifs. Lorsque les sujets expérimentaux lisent des récits d'homicide avec plus d'obscurcissement narratif narrative, ils sont moins à même de trouver le policier moralement responsable de ses actes ou de demander des pénalités. L'effet de l'obscurcissement narratif narrative est particulièrement prononcé lorsque la victime n'est pas armée. Dans la dernière partie de l'article, nous montrons que les journaux télévisés utilisent plus d'obscurcissement narratif lorsque la victime n'était pas armée, ou bien lorsqu'il y a des images de caméras-piétons—autrement dit, dans les cas où l'opinion publique serait plus sévère envers la police. Au-delà des violences policières, notre article montre l'importance de prendre en compte les structures narratives, en plus du nombre de reportages et des bias politiques, dans l'analyse des façons dont les médias influencent la perception des évènements.
Fichier principal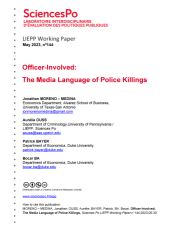 WP-144-Ouss et al.pdf (1.38 Mo)
Télécharger le fichier
Origin : Publisher files allowed on an open archive
Licence : CC BY NC ND - Attribution - NonCommercial - NoDerivatives