Dissemblances et convergences des commissions d'enquête sur les abus sexuels dans l'Église
This article provides a comparative analysis of the methodologies, findings, and recommendations of commissions of enquiry into sexual abuse in the Church. It highlights the heterogeneity of the methodologies, the various compositions and investigation periods of these commissions, as well as the impact of the socio-cultural environment on the work carried out. Reversely, our analysis shows that the results obtained mainly converge: abuse is massive, abusers are mostly men, the abused are, until the 1990s-2000s, mainly male victims; the abusive logic is above all situational. Finally, all studies highlight the inadequate institutional management of sexual violence.
Cet article propose une analyse comparative des méthodologies, résultats et recommandations des commissions d'enquête sur les abus sexuels dans l'Église. Il souligne l'hétérogénéité des méthodologies adoptées, des compositions et des périodes d'investigation distinctes selon les commissions, l'impact de l'environnement socio-culturel sur les travaux menés. À l'inverse, notre analyse montre que les résultats obtenus convergent pour l'essentiel : les abus sont massifs, les abuseurs sont majoritairement des hommes, les abusés sont, jusqu'aux années 1990-2000, principalement des victimes masculines ; les logiques abusives sont avant tout situationnelles. Enfin, ces travaux soulignent unanimement une gestion institutionnelle des violences sexuelles largement défaillante.
Fichier principal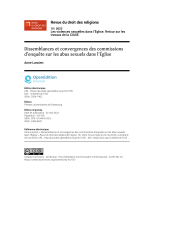 rdr-2105.pdf (258.68 Ko)
Télécharger le fichier
Origin : Publisher files allowed on an open archive
Licence : CC BY NC - Attribution - NonCommercial