Captation, appariement, réseau : une logique professionnelle d'organisation des soins
Cooperation in medicine, as in any group activity, is a key problem both for the persons involved and for sociologists. Classical studies in the sociology of health and medicine are of little help in conceptualizing this problem. While arguing against the idea that the affiliation with an institutional configuration — such as a professional segment or a specialty — determines relations between persons, this analysis seeks to move beyond the mere description of what is presented as being purely contingent. To understand phenomena related to cooperation and conflict, it is possible and worthwhile to distinguish among professionals as a function of their position in the therapeutic chain and their form of involvement in the strategy of care. Cooperation is based, in particular, on the match between "acquisitive" professionals who feel that it is their duty to follow up on a patient throughout the healing process and other professionals who see their intervention as being limited to one phase in the therapeutic itinerary.
Comme dans toute activité collective, la coopération en médecine constitue un problème central, autant pour les acteurs concernés que pour le sociologue qui l'étudie. Or, les travaux classiques de sociologie de la santé et de la médecine n'aident guère à penser ce problème. Réfutant l'idée selon laquelle les relations entre acteurs seraient déterminées par l'appartenance à des configurations institutionnelles telles que le segment professionnel ou la spécialité, le cadre d'analyse que nous proposons cherche également à aller au-delà de la seule description de phénomènes présentés comme strictement contingents. Pour comprendre efficacement les phénomènes de coopération et de conflit, nous soutenons ainsi qu'il est possible et heuristique de distinguer les professionnels en fonction de leur positionnement sur la chaîne thérapeutique et de leur mode d'engagement dans la stratégie de soins. En particulier, la coopération se fonde sur l'appariement entre un professionnel dit « captant », qui considère devoir assurer le suivi du patient tout au long des étapes qui scandent la curation, et d'autres professionnels qui conçoivent leur intervention comme ponctuelle et limitée à une étape de la trajectoire thérapeutique.
Fichier principal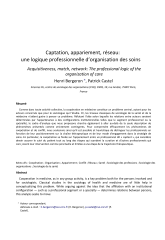 2010-bergeron-castel-captation-appariement-reseau-vauteur.pdf (385.84 Ko)
Télécharger le fichier
Origin : Files produced by the author(s)