La stratégie de bienfaisance des nationalistes hindous : Conjurer l'aspiration égalitaire des basses castes
[Hindu nationalism and the welfarist strategy. Diffusing the egalitarian demands of the low castes] Since its inception in 1925, the main Hindu nationalist organization, the Rashtriya Swayamsevak Sangh (RSS), has always been less interested in capturing state power than in transforming society. Its goal is to reshape the minds of Hindus along nationalistic lines through grassroots activities. In order to reach the untouchables, who are generally not attracted to its brahmanical style, the RSS has started social work programs. This welfarist strategy reflects the almost aesthetic sense of dedication amongst RSS activists. Therefore, its guiding logic is not simply instrumental. Yet it does not aim at emancipating the untouchables from the caste system ; it is intended to diffuse the increasing egalitarian demands of the low castes by showing that upper castes can help them. The RSS' efforts to imbue the untouchables with a new sense of Hindu-ness and to maintain them in a social hierarchy which is represented as harmonious only impacts upon the less assertive untouchable castes.
Depuis sa naissance en 1925, la principale organisation des nationalistes hindous, le Rashtriya Swayamsevak Sangh (RSS), a toujours été moins intéressée à prendre le pouvoir qu'à transformer la société. Son objectif est de réhindouiser les esprits autour d'une ligne nationaliste, par le travail à la base. Afin d'atteindre les intouchables, généralement peu attirés par les valeurs brahmaniques, le RSS a lancé des programmes de travail social. Cette stratégie de bienfaisance reflète le sens esthétique du dévouement chez les militants du RSS. Son but n'est nullement d'émanciper les intouchables du système des castes, mais de désamorcer les revendications égalitaires croissantes des basses castes en leur montrant que les hautes castes peuvent leur venir en aide. Toutefois, les efforts du RSS pour hindouiser les intouchables et pour les maintenir dans une hiérarchie sociale présentée comme harmonieuse, ne réussissent bien que chez certaines castes d'intouchables.
Fichier principal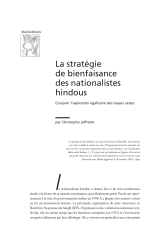 ci04p139-154.pdf (92.95 Ko)
Télécharger le fichier
Origin : Explicit agreement for this submission