La froideur du regard impassible des États
The esthetics of power have anticipated and influenced the construction of a rational and amoral theory of international relations called realism. In this paper, the analysis of several portraits of statesmen and diplomats focuses on the representation of the eyes of power. Three major characters have to be taken into account in this process : the painter, the diplomat and the scholar. They are the true protagonists of the emergence of this rationality that has played a great role, for better and most often for worse, in international politics.
À travers l'analyse de certains portraits de grands dignitaires de l'État, ce texte explore les rapports entre une esthétique de la représentation du pouvoir et une rationalité d'une science réaliste des relations internationales fondée sur la distanciation amorale. Dans l'incarnation de l'État par les grands, cette esthétique du regard communique avec cette science de la vision. Notre analyse montre que le trait précède la science et qu'à travers le travail du peintre l'intuition du regard de l'État préfigure la construction d'un savoir froid et objectivant. Les correspondances entre ces trois regards -- le peintre, le diplomate et le savant -- sont à l'origine d'une énigme dont la raison du politique est le cœur.
Fichier principal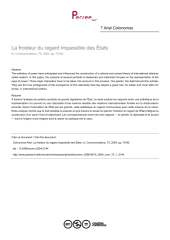 article-comm-0588-8018-2004-num-75-1-2144.pdf (1.07 Mo)
Télécharger le fichier
Origin : Explicit agreement for this submission