Security : always too much and never enough. Anthropology of a non-starter market
The security market, based on public Key Infrastructures (PKI) did not succeed because security remains a paradoxical market. We observed security practices and reciprocal expectations, in this study the ones generated by the design of PKI devices. Using the framework of Actor Network Theory, we describe all the mediations required for sustaining a digital security chain... often based on very material stuff. A whole vision of the world should be designed, an ontology, doomed to failure if it formats practices and users by constraint. This vision should retain a variable-geometry, while calling on guarantors that transcend it, and not merely on commercial certification authorities. Will security architecture design be able to integrate the users' demand for "adequate security", which renders security policies bearable as long as users are not aware of them?
Le marché de la sécurité basé sur les Public Key Infrastructures (Infrastructure de gestion de clés) n'est pas parvenu à décoller car la sécurité reste un marché paradoxal. Nous avons observé les pratiques de sécurité et les attentes réciproques créées par la conception de ces systèmes, plus spécifiquement ceux à base de PKI pour cette étude, dans les termes de la théorie de l'acteur-réseau, en reconstituant toutes les médiations nécessaires à l'existence d'une chaîne de sécurité informatique... souvent bien matérielle. C'est une vision sécuritaire du monde qui doit être produite, une ontologie, qui échoue quand elle veut trop formater les pratiques et les utilisateurs: elle doit rester " à géométrie variable " tout en mobilisant des garants qui la dépassent et non les seules autorités de certification marchandes. La conception d'architectures de sécurité peut elle admettre cette " sécurité suffisante " qui rend sup- portable les politiques de sécurité dès lors qu'elles disparaissent de la conscience des utilisateurs?
Fichier principal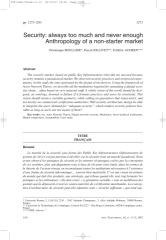 security-annales-telecoms.pdf (113.83 Ko)
Télécharger le fichier
Origin : Explicit agreement for this submission