Des gens inconvenants. Javanais et Néerlandais à l'aube de la rencontre impériale
Im frühen 17. Jahrhundert versuchte die niederländische Vereinigte Ostindienkompanie (VOC) an der Küste der Insel Java Handelstützpunkte zu errichten, um direkten und dauerhaften Zugang zu den Gewürzen der ostasiatischen Inselwelt zu erhalten. Doch Java war kein politisch unberührtes Territorium: die VOC siedelte sich im Einflussbereich des Sultanats von Bantam an, und zwischen 1628 und 1629 musste sie die militärischen Angriffe des Herrschers von Mataram abwehren. Die konfliktreichen Beziehungen zwischen der VOC und den javanesischen Herrschern unter dem Gesichtspunkt "kultureller Differenzen" zu erklären, ist unbefriedigend. Es ist vielmehr aufschlussreich, diese Konflikte mit den objektiven sozialen Merkmalen und den ausgesprochenen Wertvorstellungen der Beteiligten in dieser "Kontaktsituation" in Zusammenhang zu bringen. Nicht "Holland" und "Java" trafen auf einander, sondern Händler aus Hoorn und Amsterdam trieben unter spezifischen Umständen Handel mit Mitgliedern der javanesischen Hocharistokratie. Die VOC war weder ein monarchisches Unternehmen noch Ausdruck eines definierten "nationalen" Konsenses: die Bezugsebenen waren vielschichtig und der Prinz von Oranien musste ständig mit dem Großpensionär von Amsterdam und den Generalstaaten verhandeln, in denen sich städtische Potentaten stritten und in denen die Kaufleute dominierten. Die VOC berief sich lautstark auf ihre Unabhängigkeit von den Generalstaaten und vom Haus Oranien. Ihr Personal war darüber hinaus eher plurinational und rekrutierte sich aus dem Handelsmilieu und der Hafenwelt. Die VOC orientierte sich an den Werten der städtischen Groß-und Kleinhändler, die den Rückhalt der Regenten in den Küstenstädten bildeten und die sich entschieden vom alten grundbesitzenden Adel absetzten. Im Gegensatz hierzu zogen javanesische Adlige zur selben Zeit unter Berufung auf das Ideal des Askese, den von Gewinnstreben angetriebenen Kaufmann ins Lächerliche. Die Holländer wurden so im Zusammenhang "moralischer Auseinandersetzungen" unter den javanesischen Eliten wahrgenommen. So wurden sie schließlich zu Protagonisten einer spezifisch javanesischen Geschichte.
During the first decades of the 17th century, the Dutch East India Company (VOC) sought to establish itself on the coasts of Java in order to enjoy a direct and lasting access to the spices of the Insulindian world. But Java was not a politically virgin land: the VOC established its outpost on the outskirts of the Banten Sultanate, with which it intended to have commercial relations, and in 1628-1629 it had to sustain the assaults led by the armies of the lord of Mataram. Explaining the conflict-ridden relations between the representatives of the VOC and these Javanese political powers in terms of "cultural differences" is not very useful: it is better to analyze them in the light of the objective social attributes and explicit moral visions specific to the various protagonists of this "contact situation". This was not an encounter between "the Netherlands" and "Java", but between merchants from Hoorn and Amsterdam who had to negotiate, under very particular circumstances, with the highest members of the Javanese aristocracy. The VOC was neither at the service of a monarchical project, nor the expression of a consensually defined "national" consciousness: it was travailed by multiple allegiances, as the Prince of Orange had to constantly negotiate with the Grand Pensionary of Amsterdam and with the States-General, dominated by the rivalries between municipal potentates and by the representatives of the merchants. The Company asserted in no uncertain terms its autonomy vis-à-vis the States-General and the House of Orange. From its inception, its personnel was multi-national and came primarily from the merchants circles and from the world of the docks. The VOC was thus attuned to the various forms of urban commerce, which provided the social foundations of the power of the Regents of the seafront cities adamantly opposed to the old landed nobility. Conversely, at the same time, the Javanese nobiliary elites consistently ridicule the character of the merchant motivated by financial gain, in the name of an ideal of ascetic life. As a result, they also perceived the Dutch through the lens of the "moral wars" that the Javanese elites waged between themselves. The Dutch thus became, in the last instance, the characters of a specifically Javanese history.
Durante los primeros decenios del siglo XVII, la Compañía Unida de las Indias Orientales (VOC) intenta implantarse a lo largo de la costa de la isla de Java para tener garantizado el acceso directo y constante a las especias del mundo insulindio. Sin embargo, desde el punto de vista político, Java no es tierra virgen: la VOC se instala a las puertas del sultanato de Banten, con el que pretende comerciar, y en 1628 y 1629 debe hacer frente a los asaltos de los ejércitos del soberano de Mataram. No resulta de gran ayuda explicitar las conflictivas relaciones que mantenían los representantes de la VOC y los poderes políticos javaneses en términos de «diferencias culturales»; es preferible relacionarlas con las características sociales objetivas y las perspectivas morales explícitas de los protagonistas de esa «situación de contacto». No fue «Holanda» quien se encontró con «Java»; fueron los mercaderes de Hoorn y Ámsterdam quienes se vieron llevados a negociar –en circunstancias bien particulares– con miembros de la alta aristocracia javanesa. Ahora bien, la VOC no constituye la expresión de un proyecto monárquico ni de una conciencia «nacional» definida por consenso: las lealtades son múltiples y el Príncipe de Orange debe negociar permanentemente con el Gran Pensionario de Ámsterdam y con los Estados Generales, espacio donde se enfrentan los potentados municipales y en el que predominan los representantes de los medios de negocios. La Compañía reivindica con claridad y firmeza su autonomía respecto de los Estados Generales y de la Casa de Orange. Por otra parte, desde el primer momento el personal de la VOC es plurinacional y, en su mayoría, proviene de los medios de comerciantes y del mundo de los docks. La VOC vive así al ritmo moral de pequeños y grandes comerciantes urbanos, que forman el sustrato de los Regentes de las ciudades de la fachada marítima, adversarios acérrimos de la vieja nobleza terrateniente. Inversamente, en la misma época y en nombre de un ideal de vida ascética, las élites nobiliarias javanesas no dejan de poner en ridículo la figura del comerciante movido por el afán de lucro. A partir de entonces, los holandeses son juzgados a través del prisma de las «guerras morales» que se libran las élites javanesas. De este modo, se convierten, in fine, en los personajes de una historia estrictamente javanesa.
Dans les premières décennies du XVIIe siècle, la Compagnie unie des Indes néerlandaises orientales (VOC) cherche à s'implanter sur les côtes de l'île de Java afin de s'assurer d'un accès direct et pérenne aux épices du monde insulindien. Or, Java n'est pas une terre politique vierge : la VOC s'installe aux marches du sultanat de Banten, avec lequel elle entend commercer, et doit faire face en 1628-1629 aux assauts des armées du souverain de Mataram. Expliciter les relations conflictuelles entre les représentants de la VOC et ces pouvoirs politiques javanais en termes de « différences culturelles » n'est pas d'un grand secours : mieux vaut les rapporter aux caractéristiques sociales objectives et aux visions morales explicites des protagonistes de cette « situation de contact ». Ce n'est pas « la Hollande » qui a rencontré « Java », mais des marchands de Hoorn et d'Amsterdam qui ont été amenés à négocier, dans des circonstances particulières, avec des membres de la haute aristocratie javanaise. Or, la VOC n'est pas l'expression d'un projet monarchique, ni d'une conscience « nationale » consensuellement définie : les registres d'allégeance sont pluriels et le Prince d'Orange doit négocier en permanence avec le Grand Pensionnaire d'Amsterdam et avec les États-Généraux, où s'affrontent les potentats municipaux et où prédominent les représentants des milieux marchands. La Compagnie revendique haut et fort son autonomie à l'égard des États-Généraux et de la Maison d'Orange. Son personnel est d'ailleurs d'emblée plurinational et issu majoritairement des milieux négociants et du monde des docks. La VOC vit ainsi au rythme moral du petit et du grand négoce urbain, qui forme la base des Régents des cités de la façade maritime, farouchement opposés à la vieille noblesse terrienne. Inversement, à la même époque, les élites nobiliaires javanaises ne cessent, au nom d'un idéal de vie ascétique, de tourner en ridicule le personnage du marchand mû par l'appât du gain. Les Hollandais sont dès lors perçus au prisme des « guerres morales » que se livrent les élites javanaises. Ils deviennent in fine, les personnages d'une histoire proprement javanaise.
Fichier principal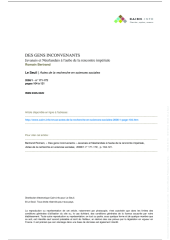 arss-171-0104.pdf (1.11 Mo)
Télécharger le fichier
Origin : Explicit agreement for this submission