Guerre, reconstruction de l'Etat et invention de la tradition en Afghanistan
War, Reconstruction of the State and Invention of Tradition in Afghanistan

War since 1979 and the reconstruction of the state under Western tutelage since 2001 have led to a simplification of the identity of Afghan society, through an invention of ethnicity and tradition – a process behind which the control or the ownership of the political and economic resources of the country are at stake. Hazarajat is a remarkable observation site of this process. Its forced integration into the nascent Afghan state during the late nineteenth century has left a mark on its history. The people of Hazara, mainly Shi'ite, has been relegated to a subordinate position from which it got out of progressively, only by means of jihad against the Soviet occupation in the 1980s and the US intervention in 2001, at the ost of an ethnicization of its social and political consciousness. Ethnicity, however, is based on a less communitarian than unequal moral and political economy. Post-war aid to state-building has polarized social relations, while strengthening their ethnicization: donors and NGOs remain prisoners of a cultural, if not orientalist approach to the country that they thereby contribute to "traditionalize", while development aid destabilizes the "traditional" society by accelerating its monetization and commodification.
La guerre depuis 1979 et la reconstruction de l'Etat sous la tutelle occidentale depuis 2001 ont conduit à une simplification identitaire de la société afghane, sous la double forme d'une invention de l'ethnicité et de la tradition – un processus dont l'enjeu véritable est le contrôle ou l'appropriation des ressources politiques et économiques du pays. Le Hazarajat est un remarquable site d'observation de cette évolution. Son histoire a été marquée par son intégration coercitive, à la fin du xixe siècle, à l'Etat afghan en formation. Sa population, de confession chiite, s'est vue reléguée à une condition de subalternité dont elle n'est progressivement sortie qu'à la faveur du djihad contre l'occupation soviétique, dans les années 1980, et de l'intervention américaine en 2001, au prix de l'ethnicisation de sa conscience sociale et politique. Mais l'ethnicité repose sur une économie morale et politique moins communautaire qu'inégalitaire. Succédant à la guerre, l'aide à la reconstruction de l'Etat tend à polariser les rapports sociaux, tout en renforçant leur ethnicisation : les bailleurs de fonds et les ONG demeurent prisonniers d'une approche culturaliste, sinon orientaliste, du pays, qu'ils contribuent de la sorte à « traditionaliser », tandis que l'aide au développement déstabilise la société « traditionnelle » en accélérant sa monétarisation et sa marchandisation.
Fichier principal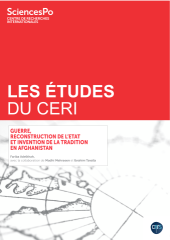 etude-221-1.pdf (765.73 Ko)
Télécharger le fichier
Origin : Publisher files allowed on an open archive