Etude sur les politiques d'exemptions fiscales et sociales pour les services à la personne
This Policy Brief provides an evaluation of the socio-fiscal schemes that have been put in place in France since the early 1990s to support the household services sector. These schemes aim to respond both to social needs (old-age dependency, childcare) and to employment concerns. These policies, however, fail on both accounts: the number of jobs created that can be attributed to the tax credit is low, for a public cost per full-time equivalent job very much higher than what would be the cost of financing these new jobs through direct budgetary spending. These policies are also characterized by a highly anti-redistributive profile: 43,5% of the total fiscal expense accrues to households in the upper income decile, while households in the bottom half of the income distribution receive only 6,6% of the total fiscal expense. This reinforces inequalities in access to services responding to social needs.
Ce Policy Brief propose une évaluation des dispositifs sociaux et fiscaux qui sont mis en œuvre en France depuis le début des années 1990 pour soutenir les services à la personne. Ces politiques ont été conçues avec le double objectif de répondre à des besoins sociaux (dépendance, garde d'enfants) et de créer de l'emploi. Elles échouent pourtant sur leurs deux versants : le nombre d'emplois créés attribuables au crédit d'impôt est faible, pour un coût public par emploi équivalent temps plein créé très largement supérieur à ce que serait le coût budgétaire d'un financement direct de ces nouveaux emplois. Ces politiques sont également caractérisées par un profil fortement anti-redistributif : alors que les ménages dans le décile supérieur des revenus captent 43,5% de la dépense fiscale totale, la moitié la plus modeste des ménages ne bénéficie que de 6,6% du montant de cette dépense. Ceci renforce les inégalités d'accès aux services répondant à des besoins sociaux. Cette étude a été commandée par l'Assemblée nationale dans le cadre de l'examen du projet de loi de finances pour 2019.
Fichier principal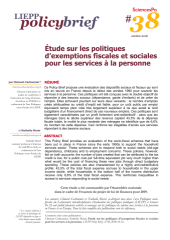 pb38-carbonnier-morel.pdf (1.02 Mo)
Télécharger le fichier
Origin : Files produced by the author(s)