Les enquêtés disent-ils toujours la même chose ? Concordances et discordances entre les réponses à un questionnaire et les interventions dans un entretien collectif
This article compares responses to questionnaires and contributions to focus groups carried out in 2005-2006 as part of research on attitudes toward European integration. It also compares the stances taken on Europe with those taken on two other issues, the welfare state and immigration. It therefore addresses questions about both the variability of opinions and the specific contribution of focus groups. It demonstrates a certain congruence between the two techniques as well as the existence of subtle shifts. These shifts are not attributable to individuals as such but to topics and to the contexts of discussion. This exploration provides evidence that focus groups are particularly useful to understand how citizens – and among them those with fewer social and political resource – are taking a stand.
Cet article confronte les réponses à un questionnaire et les interventions dans des entretiens collectifs portant sur les attitudes à l'égard de l'intégration européenne réalisés en 2005-2006. Il compare également les positions sur l'Europe avec celles obtenues sur deux autres thèmes, l'État providence et l'immigration. Il soulève donc à la fois la question de la variabilité des opinions et celle de l'apport spécifique des entretiens collectifs. Il montre une certaine congruence des deux techniques d'enquête mais souligne également l'existence de subtils décalages. Ceux-ci ne sont pas imputables aux individus en tant que tels mais relèvent d'abord des thèmes et des contextes de discussion. Cette exploration fournit des premiers éléments de preuve confortant l'idée selon laquelle les entretiens collectifs sont particulièrement utiles pour saisir les positions des moins dotés socialement et politiquement parmi les citoyens.
Fichier principal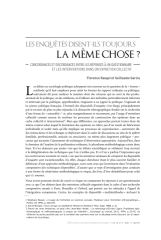 2011-les-enquetes-disent-ils-toujours-la-meme-chose.pdf (398.53 Ko)
Télécharger le fichier
Origin : Publisher files allowed on an open archive