Frontline Workers and the Role of Legal and Regulatory Intermediaries
The paper deals with legal intermediaries, as two streams of research apprehend and define them in recent and dynamic works. One, rooted in political science, studies regulatory intermediaries (LeviFaur et al., 2017; Bes, 2019), as actors between regulators and regulated, whereas the other, rooted in the Law and Society field and sociology, analyses legal intermediaries (Edelman, 2016; Talesh and Pélisse, 2019 ; Billows and alii 2019), as a broader and more bottom up category describing actors handling and dealing with legal rules even if they are not legal professionals. The article reviews these two approaches, showing their proximity but also differences and evoking empirical examples of these legal intermediaries like managers and union activists in companies, safety officers or job counsellors in private or public organizations. The paper then advances the need to study frontline workers with whom legal intermediaries interact in organizations, to understand how regulations and rules are implemented and influence social and economic practices in organizations. It finally shows how frontline workers are increasingly being called upon to become legal intermediaries themselves, not without consequences on the increased accountability expected from them.
L'article porte sur les intermédiaires du droit, appréhendés par deux courants de recherche qui en proposent récemment des définitions. L'un, développé plutôt en science politique, étudie des intermédiaires du droit (regulatory intermediaries) qui recouvrent une série d'acteurs situés entre les régulateurs et les régulés (Levi-Faur et al., 2017 ; Bes, 2019), tandis que l'autre, enraciné dans l'approche Law and Society et la sociologie, analyse les intermédiaires du droit de manière plus large et bottom up, comme des acteurs rencontrant et maniant des règles juridiques dans leurs activités professionnelles, sans pour autant être des professionnels du droit (Edelman, 2016 ; Talesh et Pélisse, 2019 ; Billows and alii 2019). L'article passe en revue ces deux approches, en montrant leur proximité mais aussi leurs différences et en évoquant des exemples empiriques de ces intermédiaires du droit ancrés dans la seconde perspective évoquée, comme les managers et les syndicalistes en entreprises, les responsables de santé sécurité ou les conseillers en emploi dans les organisations privées ou publiques. Le papier souligne ensuite la nécessité d'étudier les travailleurs de première ligne (frontline workers) avec lesquels les intermédiaires du droit interagissent dans les organisations, afin de comprendre comment les règles juridiques et les réglementations sont mises en œuvre et influencent le travail dans les organisations. Il montre enfin comment les travailleurs de première ligne sont de plus en plus appelés à devenir eux-mêmes des intermédiaires du droit, non sans conséquences sur la responsabilisation accrue qui est attendue de ces travailleurs ordinaires.
Fichier principal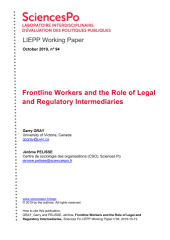 wp-94-gray-pelisse.pdf (390.3 Ko)
Télécharger le fichier
Origin : Files produced by the author(s)