Le fonds européen d'ajustement à la mondialisation : pour quoi faire ?
The recently established European Globalization Fund (EGF) is an attempt to better share the benefits of globalisation at the EU-level, targeting workers who loose their job due to trade-induced mass lay-offs. We find that the typical income shock for trade displaced workers is a serious one. However, workers displaced not through trade suffer a similar income shocks. We argue that the trade focus and the centralization at EU level may be justified on political economy grounds because trade policy is also decided at the EU level. But current EGF rules leave too much room for discretionary decisions. Therefore, we propose that the EGF focus on two simple active labour market schemes: a wage insurance scheme and lump-sum mobility allowances.
Le tout nouveau Fonds européen de mondialisation (FEM) représente une tentative de partager les bénéfices de l'ouverture aux échanges au niveau européen, en ciblant des aides sur les travailleurs perdant leur emploi dans le processus de délocalisations. Nous montrons que les effets de ces délocalisations représentent un choc de revenu important, même si d'autres travailleurs perdant leur emploi pour d'autres raisons souffrent de pertes de revenus de niveau similaire. En dépit de cela, il existe une rationalité à la création d'un outil centralisé au niveau de l'Europe, dans la mesure où la politique commerciale est aussi décidée au niveau européen. Nous plaidons pour réduire le niveau de discrétion des règles du FEM et de limiter son usage à deux mesures actives sur le marché du travail, une assurance salariale et une aide forfaitaire aux salariés qui changent de région.
Fichier principal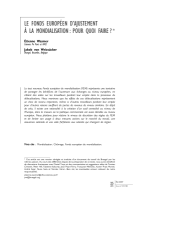 2007-07-wasmer-le-fonds-europeen-dajustement-a-la-mondialisation.pdf (120.86 Ko)
Télécharger le fichier
Origin : Publisher files allowed on an open archive