Analyse économique du marché du logement locatif
Housing is fully an economic good. Demand and supply factors play first order roles on prices and quantity exchanged. It is also a heavily regulated market. The law, in particular in France, is complex, its execution described by the « Code de procédure civile » is even more complex. In this text, we focus on the rental housing market and attempt to rationalize the existence of such regulations by various market imperfections. In a first part, we describe the lenght of litigation procedures between landlords and tenants. In a second part, we study the consequences of such delays under adverse selection: landlords attempt to screen tenants according to their (exogenous) propensity to sustain the rent. In a third part, we consider moral hazard issues, whereby tenants undertake actions affecting their likelihood of defecting on the rent. We conclude on the need for economists to consider asymmetries of information in urban economics and for law scholars willing to defend the Civil Code of French origine, to investigate where economic inefficiencies lie in order to keep its initial spirit.
Le logement est un bien économique à part entière. Il fait l'objet de transactions dans lesquelles l'offre et la demande ont un impact de premier ordre et déterminent en grande partie le niveau des prix. C'est ainsi un des marchés les plus régulés. La loi, en particulier en France, est complexe. Son exécution, fortement encadrée par le Code de procédure civile, est complexe plus encore. Dans ce texte, nous analysons le marché locatif exclusivement et tentons de rationaliser l'existence de régulations par diverses imperfections de marché. Dans une première partie, nous documentons la durée des procédures de contentieux locatif. Dans une seconde partie, nous évaluons les conséquences de ces délais dans un cadre de sélection adverse : les propriétaires tentent de sélectionner les locataires en fonction de leur propension (exogène) à payer le loyer. Dans une troisième partie, nous considérons les problèmes de risque moral, qui conduisent les locataires à entreprendre des actes affectant la probabilité d'impayé. Nous concluons sur l'utilité pour les économistes d'introduire dans les modèles urbains les questions d'asymétrie d'information, et pour les juristes, souhaitant défendre l'édifice du droit civil d'origine française, d'en rechercher les inefficacités économiques pour en garder l'esprit originel.
Fichier principal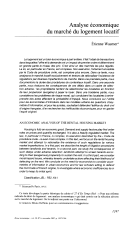 2007-wasmer-analyse-economique-du-marche-du-logement-locatif.pdf (1.55 Mo)
Télécharger le fichier
Origin : Publisher files allowed on an open archive