La « société » contre la « cité » : la construction des « tournantes » comme problème racial
This paper provides empirical results on the media coverage of group rape in the France, and on its discursive circulation within readers' responses. The purpose of this paper is to appraise how the media coverage of this type of sexual violence contributes to the racialization of the young men accused of group rape, and, by extension, to the young men resembling the rapists. We posit that race and sexuality discourses are co-produced. We use three corpuses: a corpus of articles and news briefs from the Agence France Presse and the five main French daily newspapers (Le Figaro, La Croix, Le Monde, Libération, L'Humanité), containing 418 items; a corpus of readers' comments posted on Le Monde an-d Le Figaro websites, containing 720 items; a corpus of national news television programs, containing 22 France 2 newscasts. The first two corpuses lend themselves to quantitative content analysis. The third corpus includes text and image transcripts investigated qualitatively. We find limited instances of direct discursive co-production. We observe that racialization proceeds from peripheral discursive resources (personalizing, matching processes, contextualization), and from a relationship of complementarity between the taboo of race, when it comes to writing and speaking, and its visual obviousness.
Cet article porte sur le traitement médiatique du viol collectif en France, et analyse sa circulation discursive. Nous cherchons à faire l'analyse de la contribution de la médiatisation de ce type de violence sexuelle à la racialisation des jeunes hommes qui en sont les auteurs, et par extension des jeunes hommes ayant un profil ressemblant à celui des auteurs. Nous faisons l'hypothèse d'une coproduction d'un discours racial et d'un discours de sexualité. Nous exploitons dans cette perspective trois corpus : un corpus d'articles et de dépêches provenant de l'Agence France Presse et des cinq principaux quotidiens nationaux (Le Figaro, La Croix, Le Monde, Libération, L'Humanité), réunissant 418 documents ; un corpus de commentaires de lecteurs postés sur les sites internet du Monde et du Figaro, réunissant 720 documents ; un corpus de journaux télévisés de France 2, réunissant 22 émissions. Les deux premiers corpus sont exploités par des techniques quantitatives d'analyse textuelle. Le troisième comporte de la retranscription de texte et de la retranscription d'image, analysable qualitativement. Nous identifions des instances limitées de la coproduction discursive recherchée, et observons des ressources discursives périphériques supportant le processus de racialisation (personnalisation, mise en correspondance, contextualisation), ainsi qu'un jeu de complémentarité entre le tabou écrit et oral de la race et son évidence visuelle.
Fichier principal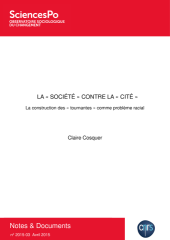 nd_2015_03.pdf (1.47 Mo)
Télécharger le fichier
Origin : Files produced by the author(s)