Des cocktails délétères : Les inégalités d'exposition aux pollutions de l'air en France
This policy brief presents the research results of an assessment of social inequalities in exposure to several air pollutants using new indicators. Exposure differences between municipalities are measured through the number of exposure days at risk and the composition of pollution days. The results show that urban communities accumulate many exposure days, a significant part of which are multi-exposure days (cocktail days). Rural communities have fewer exposure days and mixtures of pollutants are less frequent. Also, among dense urban municipalities, the most disadvantaged municipalities accumulate more days of exposure to pollution, whereas among rural municipalities the result is the opposite, all other things being equal. However, this difference is much smaller for rural municipalities. Finally, the last result presented in this policy brief is that the pollution days of the most affluent rural communes are composed of a larger share of cocktail days. In contrast, poor and affluent urban municipalities have an equivalent average share of cocktail days, all other things being equal.
Ce policy brief présente les résultats de recherche d'une évaluation des inégalités sociales d'exposition à plusieurs polluants de l'air en mobilisant de nouveaux indicateurs. Les écarts d'exposition entre communes sont mesurés à travers le nombre de jours d'exposition à risque et la composition des jours de pollution. Les résultats montrent que les communes urbaines cumulent de nombreux jours d'exposition dont une part importante sont des jours de multi exposition (jours cocktails). Les communes rurales, quant à elles, ont moins de jours d'exposition et les mélanges de polluants sont moins fréquents. Aussi, parmi les communes urbaines denses, les communes les plus défavorisées cumulent davantage de jours d'exposition à la pollution alors que parmi les communes rurales le résultat est inverse, toutes choses égales par ailleurs. Cet écart est cependant beaucoup plus faible pour les communes rurales. Enfin, dernier résultat présenté dans ce policy brief, les jours de pollution des communes rurales les plus aisées sont composés d'une plus grande part de jours cocktail. En revanche, les communes urbaines pauvres et aisées ont une part en moyenne équivalente de jours cocktails, toutes choses égales par ailleurs.
Fichier principal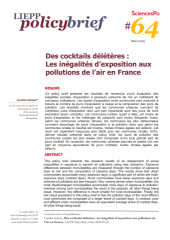 LIEPP-PB-64-Salesse.pdf (1.52 Mo)
Télécharger le fichier
Origin : Publisher files allowed on an open archive
Licence : CC BY NC ND - Attribution - NonCommercial - NoDerivatives